Discuss Accessibility, Top Challenges, and Features Worth Investing In
If you're using an electronic health record (EHR) – and who isn't these days? – then this post is for you. Remember not too long ago, when we discussed the survey findings from Software Advice's 2014 EHR Software Report? That report was certainly full of surprising EHR trends, and provided much-needed insight for physicians and medical practices about the future of EHRs.
But it left us wanting to know more. Things like what software system people are using right now, and would they recommend it to a colleague? How about the pros and cons from a clinical user's standpoint?
Well, you're in luck. Software Advice, a research firm for Mac compatible medical software, in collaboration with Research now, a digital data collection company, just released the first round of data for their annual EHR Software UserView Survey.
The data below is based on responses from 400 EHR users throughout the nation. However, data is still being actively collected, but the results thus far are worth the read.
Key Survey Findings
Three trends have been identified from the data so far:
1. An increasing numbers of EHR users – 35% – are investing more heavily in patient portals.
2. More than one-third of EHR users access the system via tablets; one in five use smartphones.
3. Decreased productivity and poor integration capabilities are key challenges for EHR users.
Patient Portals are Worth the Expense
First, respondents were presented with a list of EHR-related programs – options like patient portals, lab integration, and patient scheduling – and asked to identify how their investment spending would change in each of those areas during 2014.
EHR Users' Investment Plan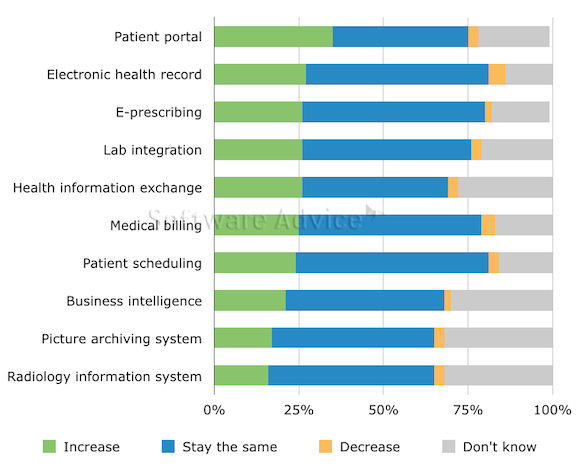 One in three users said they are increasing the amount of money dedicated to the operation of their patient portal. And with the Meaningful Use Stage 2 deadline rapidly approaching, this finding makes sense.
An effectively integrated patient portal will better prepare physicians to meet Stage 2 requirements. And more than likely, patient portal usage will be required in Stage 3 as well.
According to HealthIT.gov's Fact Sheet, physicians need to ensure the portal does the following:
The portal must be engaging and user-friendly, and must support patient-centered outcomes. The portal also must be integrated into clinical encounters so the care team uses it to convey information, communicate with patients, and support self-care and decision-making as indicated.
Mobile Matters
For now, EHR users report accessing their software system via desktop computers – 83% do so at least occasionally.
However, the survey found that a whopping 17% of respondents "exclusively use portable or mobile devices (such as laptops, tablets or smartphones) to access their systems."
Devices Used to Access EHRs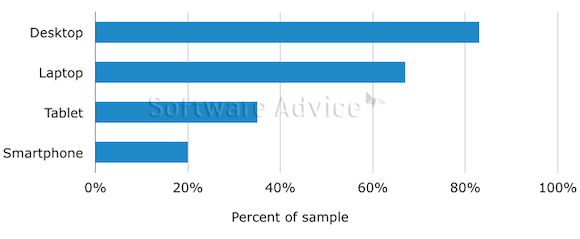 Note: Respondents selected all channels of EHR access, so the percentages reported equal greater than 100%.
Other usage and EHR access is as follows:
• Laptops – used by nearly 70%
• Tablets – used by more than 35%
• Smartphones – used by 20%
Greatest Benefits: Accessibility and Legibility
EHRs have the potential to really streamline medical office procedures – but only if they truly deliver on those promises.
Respondents were asked to rate how well their current EHR system measured up to expectations. The top two user-reported benefits were:
1. Easy access to records reported by 87% of users.
2. More robust and/or legible records offered according to 86% of respondents.
EHR Delivery of Key Benefits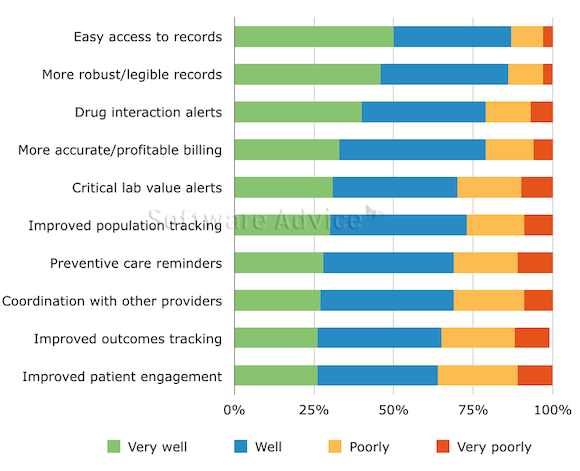 And it appears that, in general, EHRs do deliver on their promises. More than half of those surveyed ranked their EHR successfully offered every benefit listed above either "well" or "very well."
Key Challenges: Productivity and Integration
Here, respondents were presented with a list of common challenges associated with EHR usage. Perhaps one of the biggest reasons for adopting an EHR is the increased productivity that can be achieved.
Surprisingly though, 51% ranked slowed productivity as a "major" or "moderate" challenge that they were facing with the current EHR software. And 55% noted integration with other systems as an issue.
There are a lot of factors that come into play here though. For example:
• Did the medical practice just implement the software?
• Are they still transitioning from paper charting?
• Is their system properly configured for their office?
Even if you've chosen a solid EHR software system for your practice, it's going to take time to fully realize the benefits in terms of efficiencies and productivity.
Top 10 Challenges Faced by EHR Users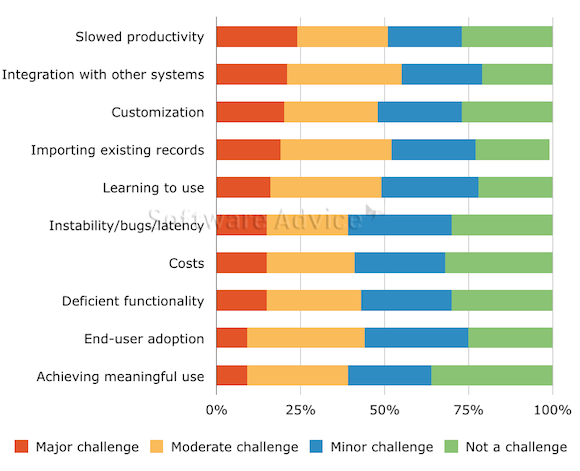 So Which Vendor Should I Buy EHR Software From?
This is probably the moment you've been waiting for, right? Someone to just tell you which EHR software to buy?
If only it were that easy. But here's some data that's worth considering:
• 72% of respondents were either "very" or "somewhat satisfied" with their EHR software.
• Three software systems pulled in 100% satisfaction ratings
 Medisoft (by McKesson)
 Lytec (by McKesson)
 IOS Medios
And Software Advice researchers noted that since nearly 75% of respondents were satisfied with their current software choice, it's likely other vendors have happy users as well. So just because your software didn't make this list, doesn't mean it's not the right software for your practice. It if works, it works.
Top 10 Vendors by User Satisfaction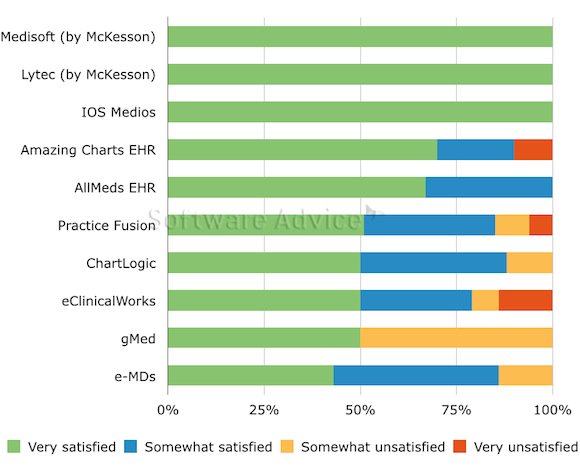 EHR Software Recommended by Capture Billing
There's one software that wasn't on the list that we can confidently recommend to medical practices. And that's AdvancedMD.
But it goes just beyond a recommendation. Time and time again, we actually witness practices implementing this system with less frustration, minimal cost, and more success. In fact, it's the only software we use for our own billing clients.
So whether you're transitioning from paper, looking for a practice management system, or trying to track down a software that is actually MU certified, you'll find those options and more. AdvancedMD's innovative EHR system includes popular features like:
• 2014 ONC HIT certified for MU attestation
• Practice Management (PM) system includes:
 Free online patient portal
 Claims management suite
 Integrated clearinghouse
 95% first-pass clean claim processing guarantee
 Seamless PM/EHR access
 Web-based deployment
 Mobile access and support
 Low start-up cost
 Manageable monthly fees
Besides the impressive features, AdvancedMD has market staying power. Owned by Fortune 500 company, ADP, and backed by 620,000 clients worldwide, including more than 45,000 U.S.-based physicians, AdvancedMD is one of the largest providers of cloud-based software.
As the EHR market becomes increasingly competitive over the next few years, only the vendors with the resources to invest in updating their software will prevail.
It will take large amounts of capital – monetary, human, and technological – to continue to meet evolving requirements of Meaningful Use Stages Two and Three. If your current software vendor lacks the resources to accommodate these ongoing regulation changes, then you will likely need to replace your EHR in the coming year(s).
Instead of taking that chance, why not contact us at Capture Billing and we will help schedule a personalized demo with AdvancedMD for you to see how their EHR will save you time, money, and frustration – both in the short- and long-term.
Or, if you'd like even more personalized service, let Capture Billing help you navigate the complexities of EHRs, while also streamlining your practice's revenue cycle.
Want to Weigh In Too?
Software Advice continues to collect data from respondents. You can see the early survey results here, but you can also see the results in real-time by visiting the survey page and clicking on the "Results" tab. And if you want to weigh in on your EHR experience too, you can access the survey there as well.
Do you agree or disagree with the survey findings? Please comment below and let me know!