Affordable Care Act Benefits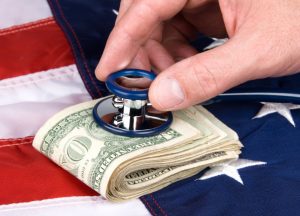 One of the biggest changes in the ACA is what benefits are required to be covered under all qualified health insurance plans. The list is referred to as the Essential Health Benefits Package, and it can be found in Section 1302 of the ACA. Every qualified health insurance plan has to cover the following 10 items, and can't deny them to a member based on age, expected lifespan, disability, quality of life, gender, or race.
1. Ambulatory patient services
2. Emergency services
3. Hospitalization
5. Mental health & substance use disorder services, including behavioral health treatment
6. Prescription drugs
7. Rehabilitative and habilitative services and devices
8. Laboratory services
9. Preventive and wellness services and chronic disease management
10. Pediatric services, including oral and vision care
Let's talk about two of the big items on this list. First off, emergency services refer to ER visits. A clarification on this coverage in the ACA says that a qualified health insurance plan has to cover ER services, even out-of-network ERs, without requiring prior authorization. Qualified health insurance plans also can't charge higher co-pays or co-insurance rates for out-of-network ERs.
Mental health and substance use disorder services is the other big item worth discussing. You may have heard the term "parity" thrown around a lot in ACA discussions. Parity means equality. In the past, mental health services were often covered at a much lower rate, say 20%, or offered by a third-party insurer altogether. This meant that even people with health insurance couldn't always afford needed mental health services. Now, because of their inclusion in the essential health benefits package, mental health services have parity, and have to be covered at the same rate as all the other essential health benefits.
Now, you may have noticed that dental health benefits aren't on the essential health benefits list, except for kids. An early draft of the ACA did include dental benefits, but that section was removed upon debate. Under the current version of the ACA, stand-alone dental plans can be offered through an Exchange, and are exempt from offering the complete essential health benefits package.
The other exceptions to these qualifications are catastrophic plans and child-only plans. Catastrophic plans are high-deductible plans for young, healthy people. They're essentially the Safe Auto plans of the health care world- minimum legal coverage with payouts only above a high level. Child-only plans are just that- health insurance plans offered by the same insurers as other qualified plans, but open only to those under age 21. These types of plans are meant as safety nets for those who are caught in the no-man's-land between making too much money to qualify for Federal programs and too little to be able to afford private health insurance.
Speaking of cost, the ACA has a built-in guide to help determine the cost vs value of a qualified health insurance plan. Each qualified health insurance plan is assigned a level based on the percentage of medical costs covered. This percentage is also called the actuarial value of the plan, and it can include employer contributions to a health savings account. The four levels are:
• Bronze Plans, which cover at least 60% of the cost of covered services
• Silver Plans, which cover at least 70% of the cost of covered services
• Gold Plans, which cover at least 80% of the cost of covered services
• Platinum Plans, which cover at least 90% of the cost of covered services.
In addition to establishing the level rating system, the ACA expressly forbids an insurer from establishing unfair cost-sharing for any of the essential health benefits. This includes co-pays, co-insurance, deductibles, and other charges or expenses. It does not include premiums, balance billing, and bills from non-covered services, however.
Starting in 2014, cost-sharing policies have to comply with the IRS Code. In addition, employer-sponsored health plans now have an annual limit of a $2,000 deductible for a single individual and a $4,000 deductible for any other plan. Starting in 2015, the annual limit on cost-sharing (which will be set by the IRS Code) can be adjusted, but any increase has to be a multiple of $50 or rounded to the next lowest multiple of $50. It's a little bit confusing, but the basic message here is that while cost-sharing arrangements can increase, they can't increase without prior notification and justification, and never because of a member's personal health status.
 _______________________________________

This is a Guest Post by Katie Anderson

.
Katie blogs at What the Health where she puts the Affordable Care Act into plain English. For more information about Katie and What the Health go to her blog saywhatthehealth.com