My son thought he had health insurance under Obamacare … but he did not.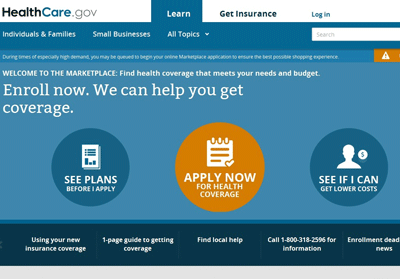 We have just celebrated the new year, January 1, 2014, and the Affordable Care Act (aka Obamacare) is now in effect. This morning my son, a veteran who used the Insurance Marketplace to sign up for insurance, announced, "Hey I have health insurance now!" He had lost his health insurance previously.
Next thing I know, I hear him on the phone with the pharmacy filling an old prescription since he now had insurance coverage. I had read that there may be some issues with people actually being covered.
When he got off the phone I asked him, "Have you called to verify that you are actually insured?" He then spent the next hour trying to figure out if he has insurance or not.
First thing he did was to see if he received any emails from Healthcare.gov or the insurance plan he signed up with. He had signed up through the Exchange in December, but after searching through emails, even looking in the spam folder, he did not find any kind of notification email.
Additionally he did not receive a call or even snail mail that he had insurance or what his next step was. He went online to Healthcare.gov in order to see if there was any information there that might of helped him, and this is what he found.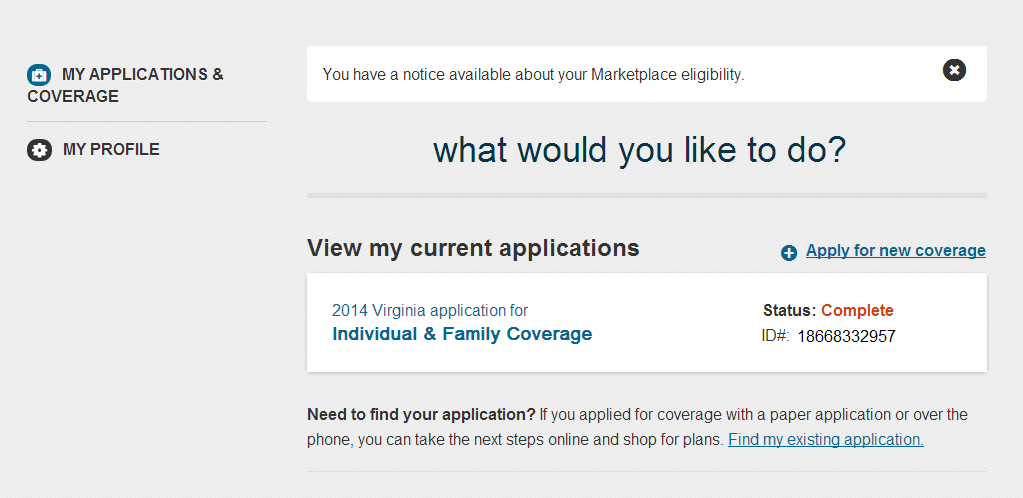 There was a box that said "You have a notice about your Marketplace eligibility" (as you can see in the image above). Problem is that it was not a clickable link. How do you get to the notice?
There were some links on the page but they lead to nothing that was applicable. Finally after hovering over 2014 Virginia application for Individual & Family Coverage he realized it was a link. After clicking it took him to this page below: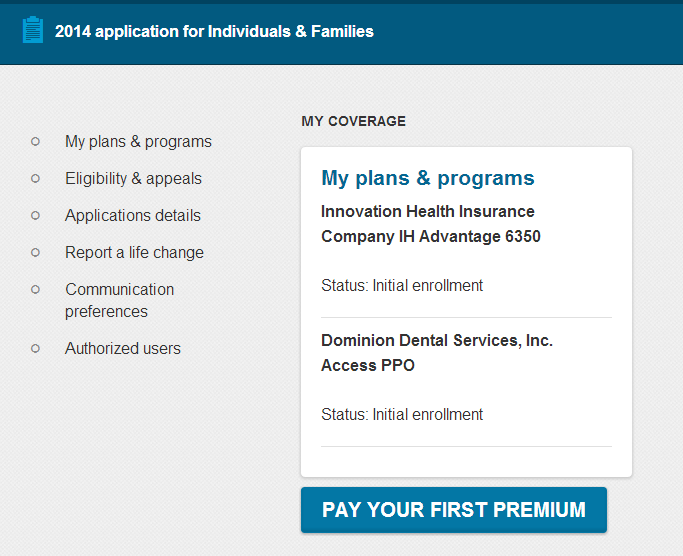 This still was not the notice he was looking for but he had not pay the premium yet so he guessed this was what the notice was about. There was no opportunity to pay when he first signed up.
Now on this page it is clear that he needed to click the big blue button to pay his first premium. Great almost there, so he pulled out his credit card and clicked the button.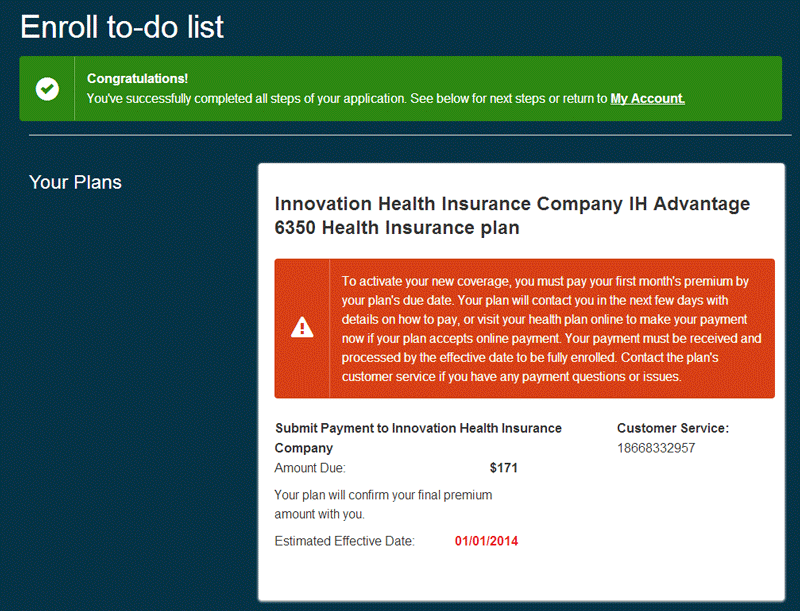 A new window opened entitled "Enroll to-do list", but wait, how do you pay? The button said "Pay Your First Premium" but there is no way you can pay from this screen.
When you read the notice in the orange box, which he now assumed was the notice from when he first logged onto Healthcare.gov, it states that he would be contacted with details on how to pay. Well he was never contacted.
It also says he could visit the health plan online. Good, he could go online and pay. But there is no link to the insurance company to pay his premium. You would think that would be important link to have. So now he had to Google the insurance company. This is what he got from Google: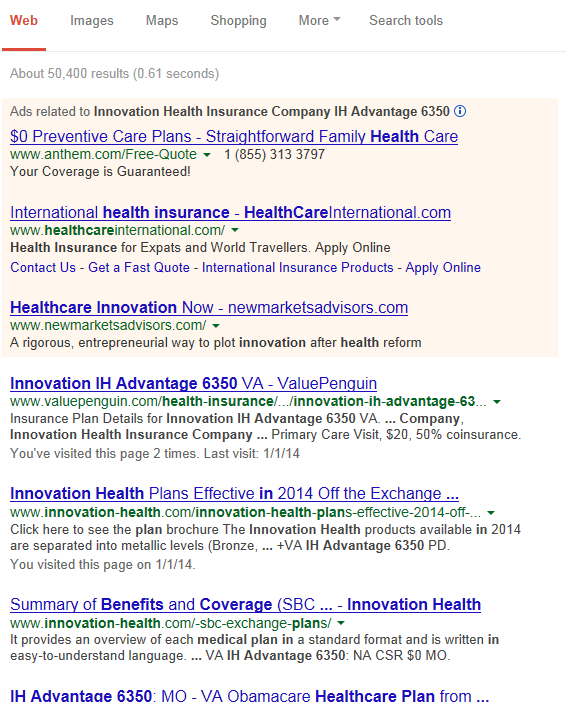 After clicking a few links he finally got to the right website. But wait, he needs an insurance ID number to setup an account to log in as you can see in the screen shot from the insurance website below.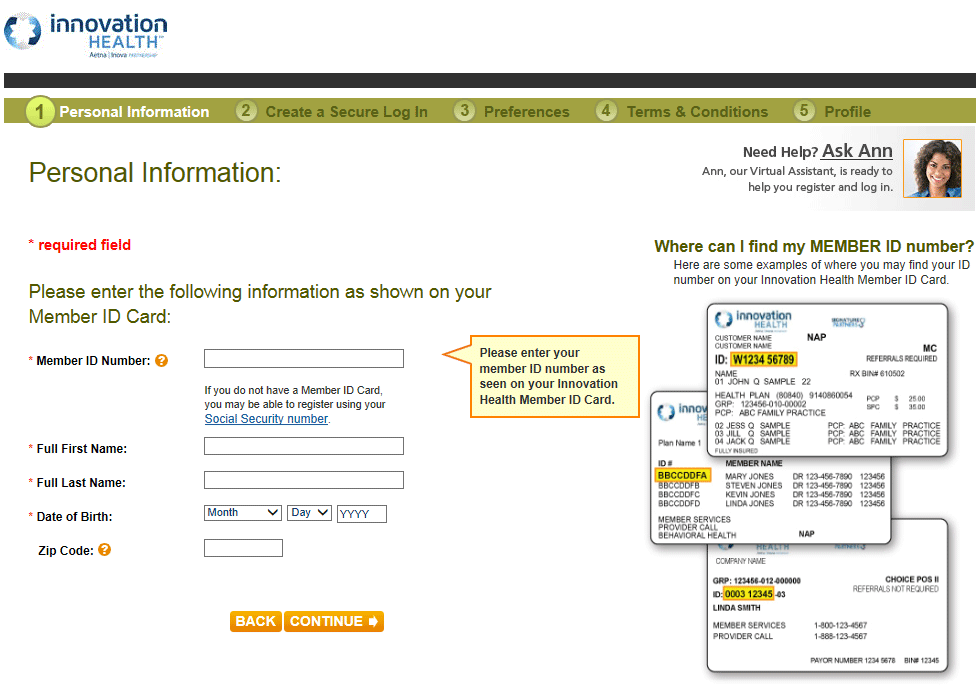 But he doesn't have a card with his ID number or even a welcome to the healthcare plan letter or email.
So now what? He looked around the website some more to see if there was any information about how to pay after signing up via the Marketplace but there was nothing.
This was a dead end!
So he went back to Healthcare.gov to look again. This time he took a very close look at each page of the website. He noticed that what before at first glance looked like an ID or reference number was actually a phone number to the insurance company. Did you catch it on the screenshot? This is what it looked like 18668332957. How hard would it have been to format it like a phone number 1-(866) 833-2957.
He called the insurance company. There was an automated announcement saying that there was an extremely high call volume. Obviously other people were having issues too. When a representative got on the line they verified that they had received his application for insurance coverage. He gave them the credit card information over the phone. Now that he had paid the insurance premium he had coverage and was able to get his prescription filled.
He was also able to get his insurance member ID number which he will need especially since he does not have his insurance cards yet. Without that ID # the doctor or pharmacy cannot verify coverage and may cause delays in getting healthcare services or medications.
Now his story ended up okay and it only took an hour to get it all straightened out. But what about other people that may have gotten confused and don't even realize that they don't have health insurance right now because they were never notified how to pay? You think it would be obvious how to pay and easy, but it's not. We are both are into technology, but it wasn't simple to navigate Healthcare.gov to figure out exactly what to do.
What about people that are not as tech savvy, not as interested in computers or the internet? What is their fate with all this insurance stuff? Will the Navigators be able to help? Will people end up going to the doctor only to find out that they're uninsured? Will they have to pay out of pocket for their medical services? I sure hope not.
If you have gotten insurance via the Marketplace at Healthcare.gov what has your experience been?
Let me know if you had a good experience and are covered or if you had issues and what they were. I would love hearing from you! – Leave your comment below.