Sequester Cuts Medicare Reimbursements – Doctors and Patients Affected as of April 1, 2013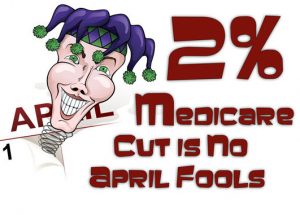 For any Medicare service or procedure performed on or after April 1, 2013, doctor's Medicare reimbursements will be cut by 2% due to the federal budget sequester cuts.
Now patients will continue to have to pay their co-insurance, deductibles or copays, as always, but – here is the crazy part – they still have to pay their full patient responsibility.
So if Medicare puts the entire amount of the claim to the patients deductible, the patient will be liable for 100% of the charge. Medicare patients will not get the benefit of a 2% reduction on what they owe.
Medicare sequester payment example
Let's go through a patient visit to see what to expect in the way of reimbursements and patient responsibilities.
A Medicare patient sees his physician for an Annual Wellness Visit. This generates a $100 service payable by Medicare. Medicare usually pays 80% of the $100, or, in this case, $80. Under the sequester the medical practice will only receive $78.40, which includes the 2% reduction. The physician will no longer receive the full $80 Medicare reimbursement.
Before Sequester
After April 1st Under Sequester
  Service
Medicare Payment
Patient Responsibility
_______________________
     Total Reimbursement 

100.00
80.00
20.00
______
100.00

    Service
Medicare Payment
Patient Responsibility
_______________________
Total Reimbursement 

 100.00
78.40
20.00
_____
98.40
So who wins here?
Well, the federal government does because they are now paying less money on claims.
Who loses?
The physician and the patient. Physicians lose because they are now getting paid less for their services. Their reimbursements are already getting squeezed by not only Medicare, but also by commercial insurance companies. With less money, medical practices will have to cut expenses and staff, which affects the quality of care.
Patients lose because they still have to pay the full amount that Medicare makes them responsible for. They don't receive any reduction or discount in what they have to pay.
I would argue that the Medicare patient on a fixed income needs the reduction the most. On top of that, doctors may just decide to drop Medicare completely, meaning less access to good healthcare providers for elderly patients who may need it most.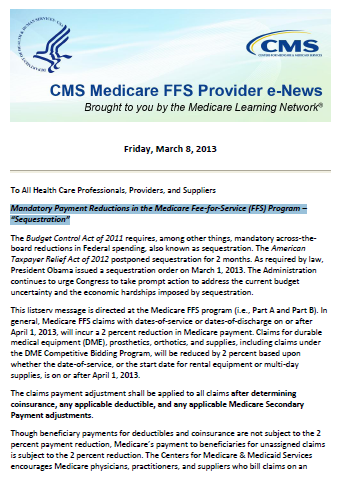 Oh, and did I forget to mention that the Meaningful Use incentive payments for physicians installing Electronic Health Records (EHR) are also going down by 2% due to the sequester after April 1st?
Click on the following link or the image to the left to read the CMS Medicare FFS Provider eNews notice dated March 8, 2013 for more information: CMS-Sequestration
Want to join the thousands of Doctors, Managers, Billers & Coders that get our blog updates sent directly to their inbox? Well, you can. Subscribe Here
What are your thoughts on this 2% Medicare reduction and the winners and losers?
I would love to hear from you. Share your comment below.