Capture Billing employees help people who have been downsized or are reentering the workforce to obtain job training in the Medical Billing field at local colleges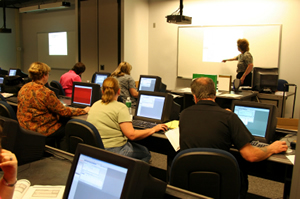 WASHINGTON, DC – Capture Billing & Consulting, Inc., a medical billing company located in South Riding, Virginia, recognizes the importance of ongoing education. Several Capture Billing employees now teach at the Loudoun Campus of Northern Virginia Community College as independent Medical Billing instructors for its Workforce Development and Continuing Education program. The program offers students a Certificate in Medical Billing. Classes include medical terminology, medical office workflow, medical insurance billing and computerized billing.
People of diverse backgrounds and educational levels take these classes to receive job training and gain employment in the medical billing field. Many of the students have been downsized, are reentering the workforce or want to advance their careers.
Students learn skills for handling difficult patient situations, medical law and ethics, general office procedures, medical billing, CPT and ICD-9 coding, claim submission, insurance follow-up and use of medical billing software. Proper handling of patient medical records and proper documentation use to ensure privacy issues and liability are also covered.
With the slow economy, class enrollment has doubled. "Traditionally the healthcare industry has been a very stable place of employment," states Manny Oliverez, Director of Operations at Capture Billing and an instructor at the college. "People want secure jobs and with the job training students are better prepared to enter into a new career."
Katie Jennings is the Medical Programs Coordinator for Continuing Education at the Loudoun Campus. According to Jennings, "We are glad to have instructors from Capture Billing. Their expertise in the Medical Billing field adds great credibility to our program. Hundreds of students have already been helped with the classes we offer."
Capture Billing works closely with other colleges, providing internship opportunities for students to get real world work experience. And the training does not stop there. The company offers continuous training for its own staff of medical billers. Capture encourages and pays for its employees to obtain advanced CPC certification from The American Academy of Professional Coders.
Capture Billing and Consulting, Inc., a leader in the outsource medical billing industry, offers one of the most cost effective and comprehensive outsourcing solutions to healthcare professionals available. By eliminating the need of an onsite medical billing staff, Capture Billing's offsite staff of expert medical billers and certified professional coders helps to increase physician reimbursement by improving collection rates, ensuring proper ICD-9 and CPT coding and providing an ethical and compliant approach to healthcare billing management.
Practicing physician and CEO, Dr. John D. Farrell, Jr., formed Capture Billing in 2004 as the answer to one of the largest concerns physicians face today, how to receive proper insurance reimbursement for services they provided.