Having problems like these with your Optometry Billing?

Staff not sure how to bill medical claims
Current billing company doesn't know Optometry
Accounts Receivable out of control
I'm losing money
We hear thing like these, and worse, from Opticians and Office managers all the time. Trust me, you are not alone with these issues. But we can help you take control of your medical billing and get you back on track where you should be.
Our staff knows how to process claims properly so you don't have to. You can have confidence in our eye billing because we have years of experience billing for other for other optometrists. Our billers will get your A/R under control, bill your Medicare and commercial insurance and stop you from losing money.
At Capture you have Experienced People Working for You.
Our team will handle charge posting, patient billing functions and billing inquiry calls in addition to guiding doctors and their staff through the medical billing process; from charge entry, insurance claims submission and denial management to revenue follow-up and payment.
We want to ensure you and your practice gets paid for all of the services they provide.
---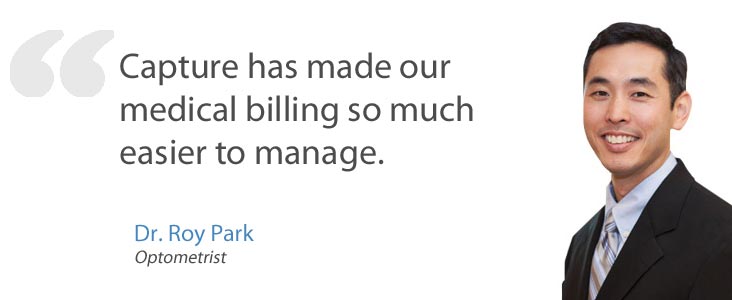 ---
So what does this cost?
We charge a percentage of collections and a start-up fee. Our optometry billing services fee is 8.9% with a start-up fee of $1,500. There is a monthly minimum of $1,500.
If you are not completely satisfied with our services within the first 90 days we will gladly refund your start-up fee and let you out of your service agreement. Just pay us for what we collected.
Do you charge for the clearinghouse?
NO. Clearinghouse fees range from $30 to $99 per provider per month. Some clearinghouses may charge you monthly fees for eligibility and to receive Electronic Remittance Advice (Insurance payment info). On top of that there may be implementation fees of close to $1,000.
Capture pays all clearinghouse fees so you don't have to.
What's the fee for sending patient statements?
The fees are .79 pe rstatement.
When can I start?
Typically we can get you up and running in a few days.
Call Us
Give us a call to see if we would be a good match for your practice. I think we will. Reached at (703) 327-1800 or go to our contact us page to get more information. Capture has made our medical billing so much easier to manage.