Increasing Number of Medical Practices Replacing EHR Software
In the rapidly changing healthcare field, it can be difficult to stay ahead of the curve. And with the explosion of electronic health records (EHRs), those changes are coming at lightning-speed.
One of the most difficult aspects of this transition becomes apparent when selecting an EHR software for your medical practice. For anyone who has spent time researching options, you know it's not only a significant investment, but finding a system that has all the features you need is a hefty task. And the pressure to choose the right one the first time around is overwhelming.
Recently, Software Advice – a company offering extensive online software reviews – released the results of their 2014 EHR Software Report. Based on data collected from 385 medical practices during the first quarter (Q1) of January 2014, the findings highlight the needs and concerns of physicians who are purchasing and/or replacing EHR systems.
If you're struggling with your current EHR or trying to find one that meets both your needs and Meaningful Use (MU) requirements, this information is for you. Plus, later, we'll discuss the EHR software that Capture Billing recommends for medical practices and how it can finally streamline this process once and for all.
Key Survey Findings
The survey data yielded several key findings, including a few surprises.
An increasing number of buyers – 40% in fact – are replacing their current EHR systems.
Nearly 9 out of 10 buyers are seeking an integrated EHR, with applications like billing and scheduling.
Mobile support is the most requested software feature, as identified by 40% of those surveyed.
An overwhelming majority – 85% – prefer web-based over an on-site system.
Increasing Number of Buyers Replacing EHR Software
Remember all that pressure to choose the right EHR software for your practice? What happens if the first software you try isn't meeting your needs?
Well, turns out, it's a common occurrence – and software replacement rates are on the rise. Take these numbers for example:
In Q1 2010, 19% of buyers were seeking to replace their current system. And the majority of those buyers were making a first-time software purchase – i.e. transitioning from paper to EHR.
By Q1 2013, those replacing existing software increased to 30%.
And by the end of Q1 2014, 40% of buyers were planning to replace current software systems.

The 40% was comprised of two distinct groups:

Those replacing

only

an EHR system – 34%
Those replacing

both

a paper system

and

EHR software – 6%
Percentage of Buyers Replacing EHR Software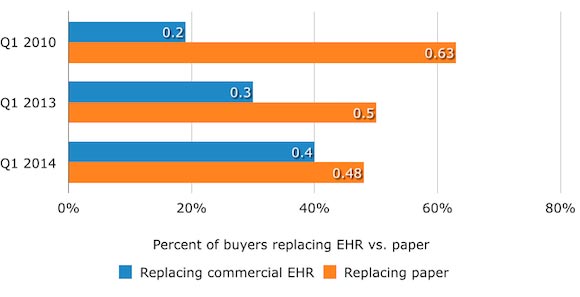 For those who have made the transition, you understand that opting to switch software systems is no small feat. Factors such as loss of productivity, additional training hours – and let's not forget – the substantial upfront purchase price pose a huge setback for most practices.
If anything, these results signify the critical importance of selecting the best system for your particular practice's needs. And to do so the first time around, or ideally, sooner rather than later.
Paper Still a Problem
Surprisingly, given the government's incentivized push for EHR adoption, the majority of those surveyed are still utilizing a paper-only system – approximately 42%.
EHR Buyers' Current Charting Methods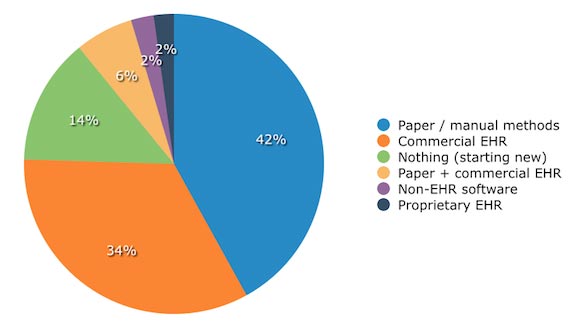 And also worth revisiting is the 6% of buyers who are still using a combination of paper and electronic methods. Software Advice researchers found that simply because a practice has adopted an EHR system, the elimination of paper in that same office isn't guaranteed. Although, this is a highly desirable end goal among those replacing current record-keeping systems.
Integrated EHR is Non-Negotiable
The need for an integrated EHR software is among the top reasons that buyers are replacing their existing EHRs. In an effort to streamline practice management, 89% of those sampled expected the software to integrate with other applications such as billing and scheduling.
On top of that, software that meets the MU requirements as outlined by Medicare and Medicaid's EHR Incentive Programs is important. That means physicians must find a system that is ONC-ATCB Certified. Failure to use an approved EHR would eventually mean decreased reimbursement from Medicare and Medicaid, which could be devastating to a practice depending on their payer mix.
Reasons for Replacing Existing EHR Software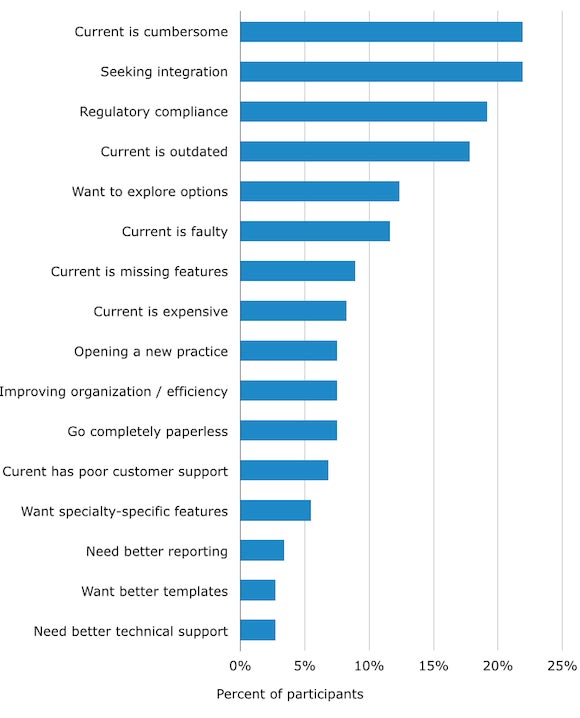 Mobile EHR Tops Requested Features
It's a mobile world we live in. And physicians and medical practices are no different.
With 39% of surveyed buyers seeking software that offers mobile support for tablets and smartphones, this should be a key consideration for your practice's next EHR system. Also topping the list and worth considering are options like e-prescribing, lab integration, and MU certification.
Most Requested Features Among EHR Buyers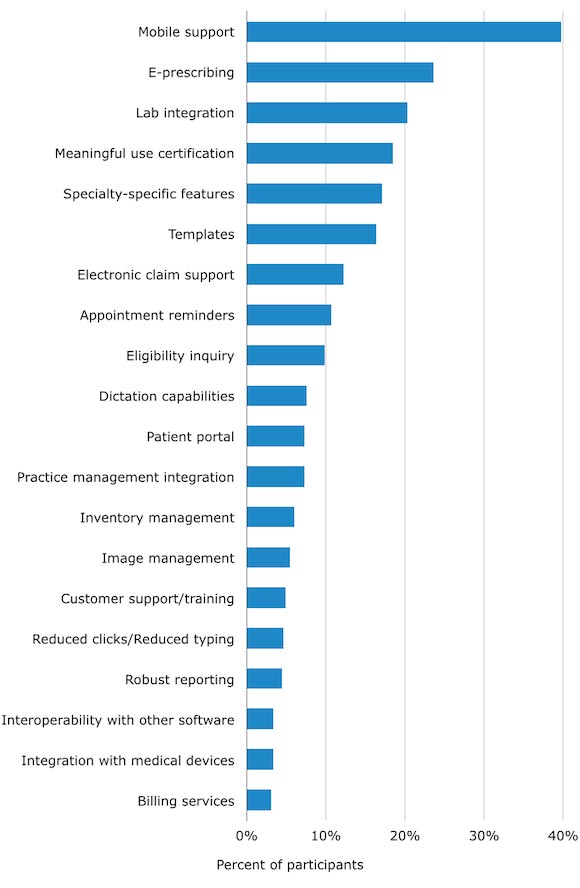 Web-based is the Way to Go
When asked about software deployment – whether they preferred a web-based software versus one installed locally on a practice's own server – 60% of respondents had no preference.
However, of the 40% who did state a preference, 85% sought a web-based EHR. When compared to 2010 data, only 70% of buyers preferred web-based solutions – resulting in an increase of 14%.
Buyers' Deployment Preferences
Still Need an EHR?
Software Advice did an excellent job compiling data about current EHR software trends. If nothing else, it's comforting to know that other practices are struggling with this transition too, but the statistics have the potential to leave you even further frustrated and confused.
Unfortunately, we've seen this many times with clients at Capture Billing. After just a few years, medical practices are finding it necessary to purchase their second or third EHR systems, because the previous software didn't perform as expected, didn't really meet their needs, or wasn't certified for MU attestation.
Time really is money, so it's critical to select the best-suited system early on.  If you're still on the hunt for the right EHR, here's a few things to consider.
Understand what your needs really are. Do you need a practice management system that integrates billing and scheduling? Is mobile support important to you?
Think ahead. The software should not only meet your current needs but also allow for future growth. Find a system that offers support for growing practices and changing regulations.
Know exactly what you're buying. And if you're not sure, always,

always

ask before signing on the dotted line.
Change happens. Sometimes, despite your best efforts, a change in software may be necessary. Like any other business, medical practices evolve and what was optional three years ago might suddenly be non-negotiable today.
And the Software Advice researcher has one final suggestion for buyers. "Don't impose a hard deadline on your evaluation process. Find a system that truly addresses your needs before making a purchase, rather than adopting a system and attempting to make it suit your purposes once in place."
The complete survey findings can be found on Software Advice's website.
Software Recommended by Capture Billing
At Capture Billing, we understand how difficult it is to find an EHR software that meets all of your needs. However, one software that we confidently recommend to medical practices is AdvancedMD.
But it goes just beyond a recommendation. Time and time again, we actually witness practices implementing this system with less frustration, minimal cost, and more success. In fact, it's the only software we use for our own billing clients.
So whether you're transitioning from paper, looking for a practice management system, or trying to track down a software that is actually MU certified, you'll find those options and more. AdvancedMD's innovative EHR system includes popular features like:
2014 ONC HIT certified for MU attestation
Practice Management (PM) system includes:

Free online patient portal
Claims management suite
Integrated clearinghouse
95% first-pass clean claim processing guarantee
Seamless PM/EHR access
Web-based deployment
Mobile access and support
Low start-up cost
Manageable monthly fees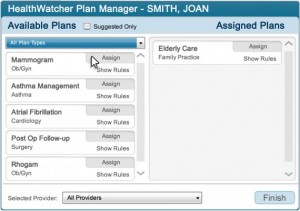 Besides the impressive features, AdvancedMD has market staying power. Owned by Fortune 500 company, ADP, and backed by 620,000 clients worldwide, including more than 45,000 U.S.-based physicians, AdvancedMD is one of the largest providers of cloud-based software.
As the EHR market becomes increasingly competitive over the next few years, only the vendors with the resources to invest in updating their software will prevail.
It will take large amounts of capital – monetary, human, and technological – to continue to meet evolving requirements of Meaningful Use Stages Two and Three. If your current software vendor lacks the resources to accommodate these ongoing regulation changes, then you will likely need to replace your EHR in the coming year(s).
Instead of taking that chance, why not contact us at Capture Billing and we will help schedule a personalized demo with AdvancedMD for you to see how their EHR will save you time, money, and frustration – both in the short- and long-term.
Or, if you'd like even more personalized service, let Capture Billing help you navigate the complexities of EHRs, while also streamlining your practice's revenue cycle.
More EHR Concerns or Questions
We talk to clients everyday about EHR systems – and the complexities, worries, and headaches that typically go hand in hand. But taking the time to implement your practice's next EHR correctly is key. Not only for increasing efficiency, but also for maintaining your revenues in the face of decreasing reimbursements.
How is your current EHR working for you? Did the survey offer any insight that might make your next EHR purchase easier or more successful? We'd love to hear from you in the comments!