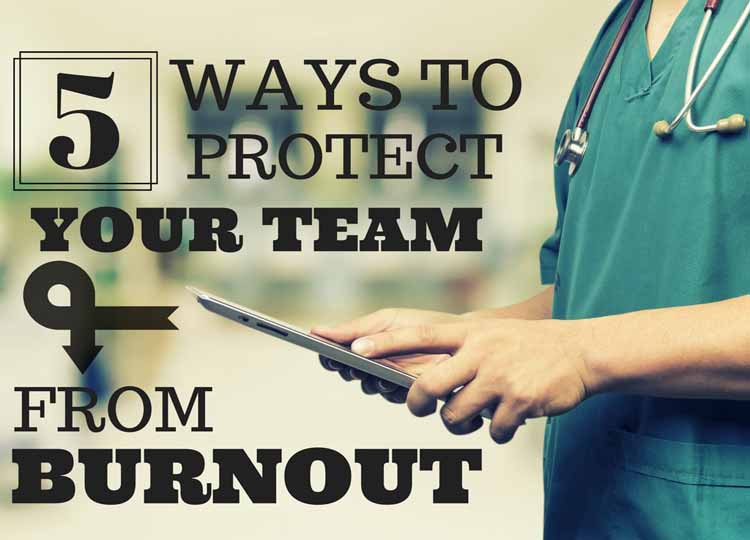 The odds are high that burnout will strike every healthcare professional at some point. Health workers — as well as teachers, ministers and others in the caring professions — are at increased risk for the stress syndrome because of the intensity of their work and the emotional bonds they form with the people they're helping.
Recognizing the signs of burnout and how to overcome it can help you and your team stay healthy and motivated so you can provide your patients with the best possible care.
What Is Burnout?
Generally, burnout is caused by a person's inability to relieve the physical and mental symptoms associated with unrelenting stress. It can show up as poor job performance, an impersonality with patients and lack of motivation.
Health problems such as high blood pressure, insomnia, depression or addictions can also be signs of burnout. The degree of burnout and the way the syndrome appears vary widely from person to person. For some, it may include nothing more than negativity about the workplace. In others, it might be serious enough that a healthcare professional has no interest in ever going back to work in the field.
Burnout: The Full Assessment
Breaking down burnout will help shed light on how it may be affecting the whole person. Knowing the signs, symptoms and strategies to prevent job burnout can help you and your team give patients the best possible care.
Signs of burnout
Becoming cynical or critical at work
Do you drag yourself to work and have trouble getting started once you arrive
Becoming irritable or impatient with co-workers, customers or clients
Lacking the energy to be consistently productive
Lacking satisfaction from work achievements
Feeling disillusioned about work
Changes in sleep habits or appetite
Troubled by unexplained headaches, backaches or other physical complaints
Supportive Strategies for Managers
Here are five different ways in which managers can help their staff succeed, feel a personal investment within the organization and stay healthy.
1. Show Appreciation
One way you can help your staff's morale is to help them feel appreciated. It's important for managers to show appreciation for a job well done and to take an active interest in an employee's life. And, it doesn't need to be complicated, a simple note of thanks can go a long way!
2. Take breaks!
Employers need to encourage breaks so that their staff doesn't overwork themselves to the point of burnout. Breaks help us walk away from stress. The first place to start? Model the behavior by taking a break yourself! See if the nurses will buddy up with each other to give each other breaks. Make your break room a calming place for the team to go. Everyone needs to get away and have a few minutes to themselves.
3. Encourage Healthy Habits
Packing your lunch can be the easiest way to eat right at work. It's easy to go to the vending machine, but not good for your waistline, or your wallet. Set up a place to help your staff exercise. Why not promote a 10 minute walk break? After all, patients look to clinical teams for health advice, shouldn't you support one another in taking care of our own health?
4. Provide Learning Opportunities
Practices should promote/encourage ongoing learning and different educational situations such as classes or seminars. This allows employees to feel confident and in control of their careers. Personal development is another often overlooked arena of health and wellness.
5. Vacation time
Make sure people are taking their vacation time. It's necessary because it promotes a healthy work-life balance. They need to feel valuable to the company at which they work, and rewards like this are good thing.
Is there a cost associated with these strategies to boost team morale? Yes. But they're worth it when people's passion for the medical practice they work for is rejuvenated and reinvigorated. What strategies have you used at work to help your team feel supported and engaged?