Chancellors Award for Outstanding Medical Billing Training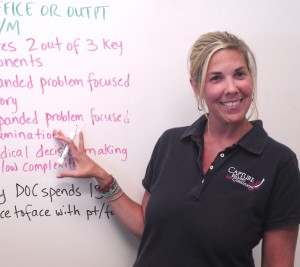 Capture Billing is proud to announce Katie Jennings, one of the experienced trainers, coders, and medical billers, as the recipient of the "Chancellors Award for Outstanding Trainer/Instructor at the Virginia Community Colleges for Continuing Education and Work Force Development".
Katie has been teaching medical billing and medical terminology classes at the Northern Virginia Community College for over seven years and has worked here at Capture Billing for three years. Her comprehensive knowledge of medical billing and her ability to understand the complex nature of the medical billing process has played a huge role in her success as an employee and teacher. We are proud to have Katie as part of our team.
Working in the medical billing industry and keeping up to date with the rules and regulations has allowed Katie to stay current in this constantly changing healthcare industry. She feels very fortunate to have the opportunity to educate and impart her knowledge to other individuals and assist them with their quests to become medical billers and certified coding professionals.
Some of the criteria instructors must have to be nominated for the Chancellors Award are:
The nominee should have outstanding character and has provided their time and talent to help serve the community
Nominee receives outstanding course evaluations
Nominee assist the college in program and workforce development
Capture understands the importance of continuing education in and out of the workplace and encourages its employees to seek a variety of certifications in the medical billing field.
As an RN (registered nurse) in the state of Virginia, Katie is one of several talented and certified professionals working for Capture. To learn more about the medical billing services Capture Billing offers please visit www.capturebilling.com