What is HIPAA 5010 and Does it Effect My Medical Practice?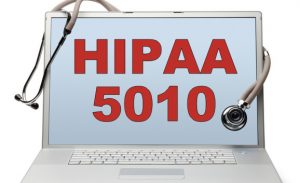 Effective January 1, 2012 HIPAA version 5010 becomes mandatory. All of us in the healthcare industry will need to understand, implement and transition to the new Health Insurance Portability and Accountability Act (HIPAA) version 5010 well before the mandated compliance date. Testing should begin as soon as possible to avoid any delays in claims payments and rejections.
What is 5010 and how does it affect the Healthcare Industry?
5010 refers to the set of rules implemented and regulated under HIPAA which determines how electronic information is transmitted. The current standard of electronic transactions and designated code sets is the 4010 version (Version 004010 of the ASC X12 transaction implementation guides), which will be phased out and replaced by 5010. 5010 will allow for more efficient, more improved and larger information exchange. The 5010 version will also transition the healthcare industry from ICD-9 to ICD-10.
The 5010 code set is expected to save $12 billion according to The Department of Health and Human Services. Cost savings will come from eliminating inefficient manual processing of transactions. These cost savings are mandated by the Affordable Care Act.
When claims are sent electronically, the information submitted gets translated and put into specific parameters that are then sent by clearinghouses or directly through Practice Management software (PMS) to insurance companies for payment. Not only are electronic transactions required to submit claims, they are also necessary to receive payments, check eligibility, authorizations, and get claim status. This is what comprises the 5010 transaction set.
Even though the current standard is 4010, multiple systems are still in use by insurance carriers. The new 5010 rules will now provide greater uniformity in the transmission of information. Any systems not meeting the 5010 transition deadline of January 1, 2012, will no longer be able to communicate with any insurance companies, seriously affecting the bottom line! Any disruption of claims payments will adversely impact any medical practice.
Is there a Choice?
NO. Just like the upcoming ICD-10 implementation in 2013, this new 5010 version is required. Payers, clearinghouses, and all providers are required to comply with the mandated 5010 requirements. The only exemption is for paper claims filing.
The official guidelines can be found at https://www.cms.gov/ElectronicBillingEDITrans/18_5010D0.asp
What does this mean for the average small medical practice?
The 5010 requirements are parameters that either your Practice Management Software vendor or your electronic clearinghouse will implement. There should be a minimal impact on your practice, as long as you are partnered with a good PM system and/or clearinghouse. Testing should already be happening and your PMS/clearinghouse partners should have already given you their timeline for testing your practice.
In a nutshell, there are four basic items that will affect the information on claims that your office needs to be aware of:
1. Provider addresses can no longer be a post office box. An actual street address is now required.
2. The provider must be listed as the billing provider. A medical billing service or clearinghouse is no longer acceptable.
3. Rules for reporting providers and NPI have changed.
4. Subscribers for the most part are now the patient regardless of who purchases the policy. The only exception is if there is a suffix in the last name.
How do you prepare for the 5010 conversions?
There are several ways that you can get started to ensure 5010 compliance. The earlier you start the better.
1. Contact your Practice Management Software vendor. Your vendor must be able to upgrade your system to be 5010 compliant.
2. Check with your electronic clearinghouse to make sure that testing is underway and find out when you can begin testing your own claims with the clearinghouse for claims submission.
3. Review and adjust any data collection that will impact your claims submissions. Your Practice Management Software vendor should take care of this for you.
4. Confirm with your payers that they are also testing and implementing 5010. Find out when you can submit claims for testing to payers also.
You can send and receive 5010 transactions as soon as your practice, clearinghouse and payers are ready to accept them.