Capture Billing Posts a Daily Online Newspaper Focusing on Medical Billing and Healthcare Industry Called the Medical Billing and Coding News
Loudoun County, VA – Capture Billing & Consulting, Inc., a nationwide medical billing company located in South Riding, Virginia, has created an online newspaper named Medical Billing and Coding News.
Today's professionals in the healthcare, medical billing, and coding industry use a variety of media outlets to gain knowledge and information about the changes and challenges facing the healthcare industry. Many of these professionals have difficulty finding the time to sort through these outlets to find pertinent and useful information.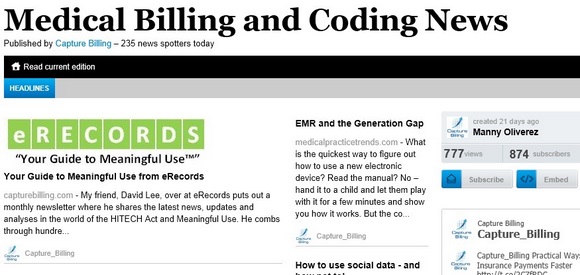 Capture Billing understands the importance of these educational resources and the limited time professionals have to sift through the immense amount of information available to them. To help with this demand Capture now posts a daily online newspaper that compiles and organizes significant information physicians and healthcare professionals need to operate their practices into one place.
"My staff and I need to stay abreast of what is new and what is changing in the medical billing and coding field. Capture Billing's online Medical Billing and Coding News has been a great resource for us and we thought other physicians, practice administrators, medical billers and coders in the field would benefit as well" says Manny Oliverez CEO of Capture Billing and Consulting, Inc. The online newspaper consists of topics ranging from social media and trends in healthcare, in addition to information about EHRs (Electronic Health Records). The articles within the newspaper are useful and enjoyable not only to medical billers, and doctors but to all healthcare professionals.
To register for Medical Billing and Coding News, our online newspaper services please visit http://www.paper.li/Capture_Billing/1309807499
To learn more about the medical billing services Capture Billing offers please visit www.capturebilling.com.
ABOUT CAPTURE BILLING
Capture Billing and Consulting, Inc., a leader in the outsourced medical billing services industry, offers one of the most cost-effective outsourcing solutions to healthcare professionals available. By eliminating the need for in-house medical billing staff, Capture Billing's staff of expert medical billers and certified professional coders help to increase physician reimbursement by improving collection rates and ensuring proper ICD-9 and CPT coding. Practicing physician and CEO, Dr. John D. Farrell, Jr., formed Capture Billing in 2004 as the answer to one of the largest concerns physicians face today, how to receive proper insurance reimbursement for services they provided.