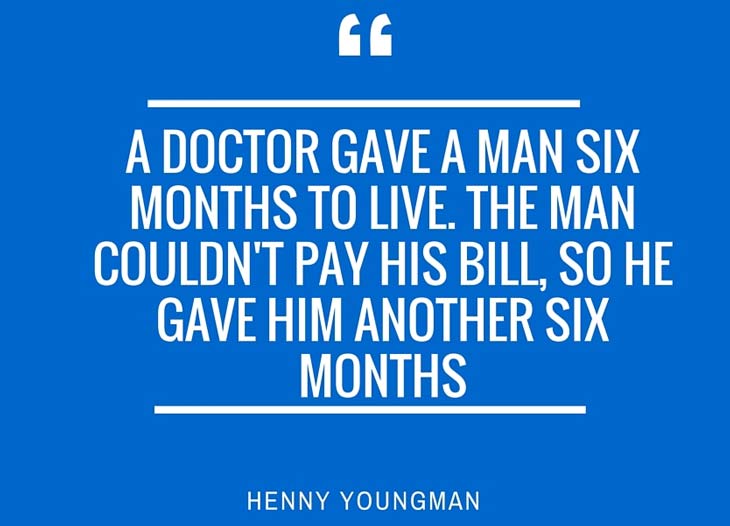 Quotes for Doctors and other Healthcare Providers
We have compiled a list of quotes that we think would be of interest to doctors and healthcare professionals. They range from the funny, to the inspirational to the profound. We will keep adding to the list as we find more quotes to share.
If you have a favorite quote please add it in the comment section below. Enjoy!
"I told the doctor I broke my leg in two places. He told me to quit going to those places. – Henny Youngman"
"Never go to a doctor whose office plants have died. – Erma Bombeck"
"As a doctor, I understand how actions can affect lives. – Ami Bera"
"The best cure for the body is a quiet mind. – Napoleon"
"God heals and the doctor takes the fee. – Benjamin Franklin"
"He is the best physician who is the most ingenious inspire of hope. -Samuel Taylor Coleridge"
"One of the first duties of the physician is to educate the masses not to take medicine. – William Osler"
"I am a scientist and I am a physician. So I write papers. – Siddhartha Mukherjee"
"The best doctors in the world are Doctor Diet, Doctor Quiet, and Doctor Merryman. – Jonathan Swift"
"Don't just stand there, idiot. Call a doctor, and then help me find a nose. – Blake Edwards"
"If I wasn't singing country music for a living, I was actually going to school to be a doctor -Dustin Lynch"
"If not music, I think it would be pretty cool to be an ear, nose and throat doctor. -David Archuleta"
"A doctor is not a mechanic. A car doesn't react with a mechanic, but a human being does. – Randa Haines"
"Sleep is better than medicine. – Unknown"
A hospital bed is a parked taxi with the meter running. – Groucho Marx"
"Nearly all men die of their medicines, not of their diseases. – Moliere"
"Health is the state about which medicine has nothing to say. -W.H. Auden"
"Nature can do more than physicians. – Oliver Cromwell"
"I observe the physician with the same diligence as the disease. – John Donne "
"Water, air, and cleanness are the chief articles in my pharmacy. – Napoleon"
"Medicines are only fit for old people. – Napoleon"
"They do certainly give very strange, and newfangled, names to diseases. – Plato"
"Some remedies are worse than the disease. – Publilius Syrus"
"By some medicine life may be prolonged, yet death will seize the doctor too. -William Shakespeare"
"I mean some doctor told me I had six months to live and I went to their funeral. – Keith Richards"
"I'm not a doctor. I just have a tremendous amount of common sense. – Steve Harvey"
"When I was born I was so ugly the doctor slapped my mother. – Rodney Dangerfield"
"When I told my doctor I couldn't afford an operation, he offered to touch-up my X-rays. – Henny Youngman"
"I wanted to be a doctor when I was little, so I'm okay with blood and guts. – Jennifer Lawrence"
"My doctor told me to stop having intimate dinners for four.Unless there are three other people-Orson Welles"
"I'm not feeling very well – I need a doctor immediately. Ring the nearest golf course. – Groucho Marx"
"When I was born, the doctor looked at my mother and said, 'Congratulations, you have an actor! -Sally Field"
"My doctor told me I would never walk again. My mother told me I would. I believed my mother-Wilma Rudolph "
"Time is generally the best doctor. -Ovid"
"The patient is not likely to recover who makes the doctor his heir. – Thomas Fuller"
"Your face tells a story and it shouldn't be a story about your drive to the doctor's office-Julia Roberts"
"Is there a doctor in the house? My parents want me to marry you. – Wendy Liebman" v
"That's what the 'Doctor' is about, essentially-having that energy that you just can't understand-Billie Piper"
"I regret to this day that I never went to college. I feel I should have been a doctor. – Ty Cobb "
"I went to the doctor and he said I had acute appendicitis, and I said compared to who? – Jay London"
"Passion, you see, can be destroyed by a doctor. It cannot be created. – Peter Shaffer"
"As a cancer doctor, I'm looking forward to being out of a job. – Daniel Kraft"
"A wise doctor does not mutter incantations over a sore throat that needs the knife. – Sophocles"
[easy-tweet tweet="You can't be a doctor if you don't know the entire parts of the body. – Bernie Mac" v
"I asked my doctor how many more years I have left and he said, You're too ornery to die. – Jimmy Piersall"
"I'm strongly for a patient Bill of Rights. Decisions ought to be made by doctors, not accountants -C Schumer"
"Some people think that doctors and nurses can put scrambled eggs back in the shell. – Cass Canfield"
"I am dying from the treatment of too many physicians. – Alexander the Great"
"Restore a man to his health, his purse lies open to thee. – Robert Burton"