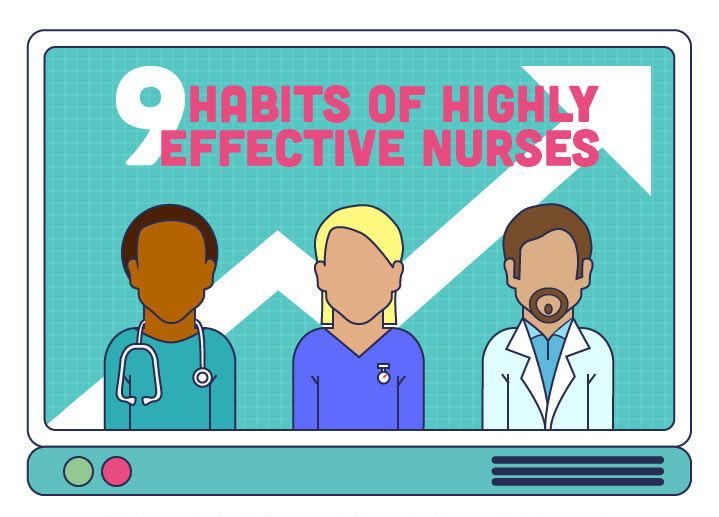 Are You A Highly Effective Nurse?
There is a shortage in nursing, there's no denying it. In the past, I've written a bit about the nurse shortage and how baby boomers are affecting this. However, fear not, as there are many nurses-in-training out there and getting ready for the big world of nursing.
I recently come across another infographic that takes a look at 9 habits that a nurse needs to possess in order to be effective in their job – which is perfect for anyone training to become a nurse and help change the shortage in nurses.
The world of nursing can be a very tiring, emotional and stressful place to be.
However, it's part of the job that nurses need to remain vigilant and alert at all times. Situations and conditions can change at the flick of a switch and nurses need to be prepared and ready for this.
What habits do highly effective nurses need to have?
Nursing is all about managing your time effectively. Knowing how to multi-task yet be able to remain focused and able to divide your time where it counts.
Any effective nurse will need to be able to manage this while avoiding taking shortcuts and not rushing through tasks.
While saving time can be beneficial, you don't want to do it at the cost of not completely your work correctly and rushing will only lead to the likelihood making mistakes.
One good suggestion to managing your time is to break each day into blocks of time, when possible. By putting the tasks in order of priority you'll be able to work through the most important ones first.
Being there to support your team is another vital habit you're going to need to have. There are many tasks you can do on your own but there will be some jobs where the guidance and support from your fellow co-workers will come in really handy. Show respect and help out when possible.
In the infographic that I found from Sunbelt Staffing below, you can take a look at some more of the habits that can help any nurse turn into the most effective professional they can be.
Do you have any habits that work for you that you would like to share to help other nurses? Share your habit in the comment section below.