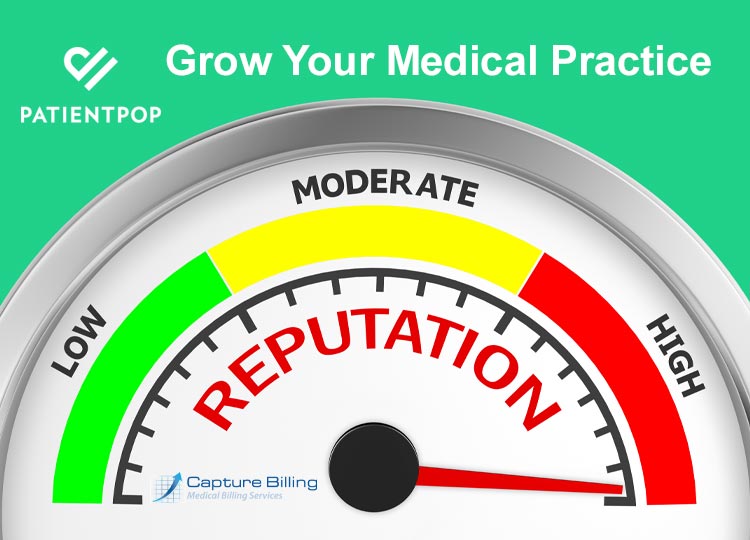 How Marketing Software Can Boost Your Online Reputation and Attract New Patients
My friend Michele started working for a healthcare marketing company, PatientPop. PatientPop helps medical practices bring in more patients and manage what patients are saying about your practice online. Sounded interesting to me since doctors are always complaining about what patients say about them on the internet. Also marketing your practice on the web is a great way to bring in new patients.
I asked Michele if she could tell me all about PatientPop and how it works. We then took it out for a spin so I could check it out. Here's what I learned:
Digital Word-of-Mouth Patient Referrals
Despite the rise of the digital age, word-of-mouth referrals are still extremely influential in healthcare. Now, it's just that these conversations happen online instead of in line at the grocery store. As many as 72 percent of patients use online reviews as the initial step in finding a new physician.
Whether you are just opening a practice or have been in business for years, the importance of managing these online conversations remains the same. Until now, there hasn't been an easy and reliable way to track your practice's online activity and reach. But a new all-in-one practice growth platform called PatientPop offers a comprehensive and effective solution for busy physicians and practice managers.
What Is PatientPop?
Because there really is nothing else like it on the market, let's start off with the official description from the team at PatientPop:
"PatientPop is the first all-in-one practice growth platform — designed just for healthcare providers — that modernizes and manages the entire patient journey from first impression online to booking an appointment and ensuring patients come back to the practice and even refer a few of their friends. PatientPop helps healthcare providers attract new patients, create a great patient experience, and streamline their front office."

So basically, it's like having a full-service marketing team at the touch of a button. This team is capable of customizing marketing efforts over the life cycle of each patient, managing your online reputation, and increasing patient retention.
To do this, PatientPop focuses on three key areas: Web presence, website, and reputation.
Web Presence
Web presence is where it all starts. Whether a patient performs an online search of a physician's name (i.e. Thomas Smith MD) or just opts to conduct a general inquiry for a physician in a certain area (i.e. family physician San Diego), the search results influence the patient's next steps.
This is why search engine optimization (SEO) has become so important for physicians. The search results that populate, especially if there is missing or negative information about the physician, can deter patients from going any further. It can lead them away from you and toward the next physician who has a positive online presence.
To address this issue, PatientPop reviews the following data when a search for your practice is performed:
Is the physician and/or practice showing up first in the search results?
Does an accurate name, address and phone number (NAP) populate?
Is there a professional and friendly headshot of the physician?
Which online directories, like Yelp and Healthgrades, show up in the results?
What do these online directories say about the physician's reputation?

In order to boost a physician's website higher in the search results, part of Google's ranking algorithm relies on the overall confidence of the site. And the confidence of the site relies on having accurate and complete information about the physician and practice — such as the NAP/name, address, and phone number — across all online directories.
PatientPop scans dozens of these directories, identifies where the inaccuracies are, and updates the directory profiles. Now that you have complete and accurate profiles across the web, there are two distinct benefits:
Your search ranking should naturally improve over time due to the boost in confidence; and
Each directory now offers a place to engage with and attract new patients.
Website
If your practice's website populates high in the search results, then you'll want to be sure that you have a user-friendly website designed to convert that can handle the increase in traffic. Since 77 percent of Americans now use a smartphone, a mobile-friendly site is a must-have. Mobile-friendliness also ties into Google rankings because properly functioning websites tend to rank higher in the search results.
PatientPop evaluates your practice's website, specifically how well it performs in terms of:
Mobile user experience;
Mobile speed; and
Desktop speed.
Website speeds are really crucial in our on-the-go society. If a site or page is slow to load — whether on desktop or mobile — prospective patients are likely to give up and head elsewhere. Nearly three-quarters of mobile users say that they have been on a website that is too slow to load. As many as 40 percent of site visitors have left a webpage when it takes more than three seconds to load. So time is really critical.
Besides speed, user experiences are important too. The team at PatientPop will create a streamlined, visually appealing, and easy to navigate practice website that contains useful patient content including educational information about specific services offered, all of which helps increase search engine rankings.

The other goal of having such a user-friendly website is to convert site visitors into actual patients. PatientPop accomplishes this by offering multiple ways to schedule an appointment — from one-click calling on mobile devices to online booking. One recently added feature even allows patients to book directly through Google search results without having to click through to the practice website at all.
Reputation
After a patient books online and attends the appointment, it's important to continue to nurture and improve the relationship by obtaining patient feedback. PatientPop's automated system sends an email or text to the patient, prompting them to leave a quick testimonial and rating. The software then posts the positive reviews and ratings directly to the practice's website and also encourages those patients to leave a testimonial on a third-party review site like Google, Yelp, or Facebook.

Negative reviews are immediately referred to the practice manager and physician for further follow-up while the system sends a customized apology to the patient. The practice can then reach out personally to address the issue as well.
Expand Your Practice's Reach
PatientPop is a welcome solution for many physicians who are seeking ways to generate practice growth. Whether you want to improve your patient relationships and practice reputation or simply harness the positive impressions you're already making, the all-inclusive software does it all — and saves you lots of time and frustration in the process.
Accessibility and affordability are significant benefits also. A simple dashboard and report generator means it's easy to track your progress and see where you stand at any point. Average ROI across their current customer base is approximately 570%. PatientPop support services are available via phone and email with an after-hours option and subscription-based pricing structures can fit into most practice's marketing budgets. And since it operates on a Software-as-a-Service (SaaS) platform, which simply means that it is cloud-based, PatientPop doesn't require a hefty file download or costly expansion of your existing IT infrastructure.
How would a marketing software like this help grow your practice and improve patient relationships? Is there other software you would like me to review? Please tell me in the comments below.