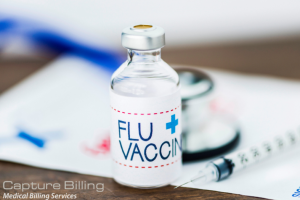 Looking for ways to improve your Flu Immunization Workflow Strategy? Try Standing Orders!
Using standing order protocols for flu vaccination in your medical practice allows trained healthcare professionals – who are permitted to do so under state law – to assess a patient's need for vaccination, determine if there are contraindications or precautions, and then to administer influenza vaccine without obtaining a physician's written or verbal order for an individual patient.
Studies have shown that standing orders, carried out by nurses or other qualified healthcare professionals, are one of the most consistently effective means for increasing vaccination rates and reducing missed opportunities for vaccination, thereby improving quality of care. (1)
The goal of standing orders? Increase vaccination coverage in a practice by:
Eliminating highly skilled (and busy!) clinicians from involvement in vaccine needs assessments and writing vaccination orders one patient at a time
Delegating to nurses, or other legally qualified health care professionals, the role of assessing patients' vaccination needs and vaccinating them
Empowering the whole team to improve the practice's vaccination program
CDC's Advisory Committee on Immunization Practices (ACIP) has recommended the use of standing orders to increase adult vaccination rates since 2000. (2)
The Community Preventive Services Task Force (Task Force) recommends standing orders for vaccinations based on strong evidence of effectiveness in improving vaccination rates among adults and children, when used alone or with additional interventions, and across a range of settings and populations. (3)
Who is authorized to administer vaccines under standing orders? It varies by state law. To find out which medical personnel are permitted to administer vaccines under standing orders in your state, contact your state immunization program manager.
Want to start a standing orders program in your practice setting?
The Immunization Action Coalition (IAC) has materials available that help make standing orders easy to implement. "Using Standing Orders for Administering Vaccines: What You Should Know" is a one-page article describing the basics of standing orders.
Don't Reinvent the Wheel!
IAC has created free standing order templates for all routinely recommended vaccines for administration to children, teens, and adults. They are all available online and are modifiable in any way you choose to suit your practice's needs.
These standing order templates are based on ACIP vaccine recommendations and are reviewed for technical accuracy by CDC staff. IAC updates its standing orders protocols whenever ACIP makes changes in vaccine recommendations.
You can access all of IAC's vaccination standing order templates HERE.
Here are four to get you started:
What strategies have you employed to improve your practice workflow this flu season?


References:
Use of standing orders for adult influenza vaccination: A national survey of primary care physicians Am J Prev Med. 2011 Feb; 40(2): 144–148.