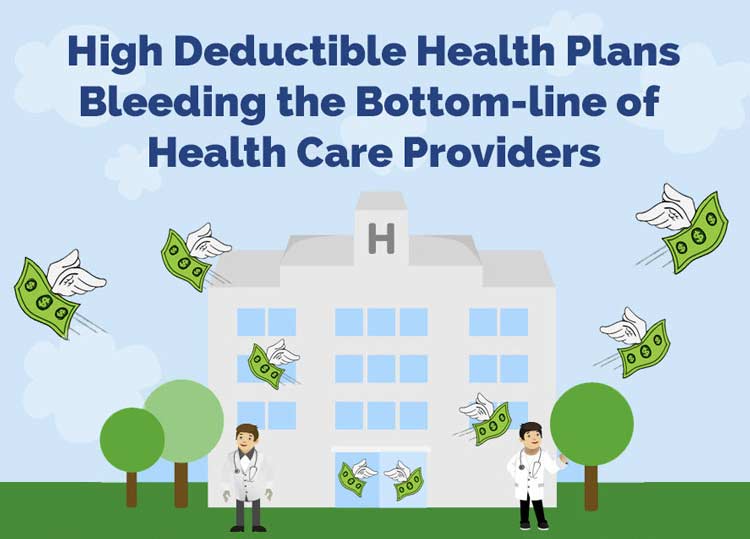 What High Deductible Health Plans Mean for Your Practice's Bottom Line
At Capture Billing, our medical billing clients are seeing more high deductible health plans (HDHPs) than ever before. And since the introduction of the Affordable Care Act, AKA "Obamacare," those numbers will only continue to rise.
So when we saw this interesting infographic from one of our friendly competitors, Nobility, we knew our readers would be interested too.
Background
The crux of an HDHP is just that – the high deductible. With minimum 2015 deductibles starting at $1,300 for single plans and $2,600 for family plans, patients are struggling to come up with cash for medical expenses.
When someone enrolls in an HDHP, it's estimated that their healthcare spending drops a whopping 14%. That drop also means that nearly one-third of patients with HDHPs are delaying or skipping recommended treatments and/or procedures.
And more employers are jumping on the HDHP bandwagon each year. As employers have been forced to cut costs, they've found low-premium HDHPs to be a much more affordable plan option since employees are assuming the bulk of the financial burden.
Since 2014, there's been more than a 50% jump in employers who are offering HDHPs as the sole insurance plan option for their company. As a result, 1 in 5 US residents belong to HDHPs today.
With those kinds of numbers, your billing office will certainly be seeing more patients with high deductibles – and their decreased spending could affect your bottom line.