Manny Oliverez of Capture Billing & Consulting, Inc. will be teaching a Medical Revenue Cycle Management class at Local Community College.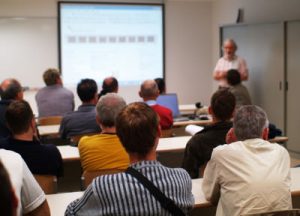 Loudoun County, VA – Capture Billing & Consulting, Inc., a national medical billing company located in South Riding, Virginia, is excited to announce that Manny Oliverez, CEO of Capture Billing, will be teaching Medical Revenue Cycle Management on Saturday, August 27, 2011, at the Loudoun Campus of Northern Virginia Community College (NVCC).
The Medical Revenue Cycle Management class is part of a series of 5 classes of the Medical Office Administration Program in the Workforce Development Department of the college. The courses are geared towards helping individuals with specific training needs in the field of medical billing. Students that take all the classes receive a Certificate.
Students of the Revenue Cycle class consist of workers in the medical billing and coding field updating their current skills, students entering or re-entering the workforce and students changing careers. The course will cover the entire medical billing revenue cycle and will provide practical hands-on solutions on how to best manage medical billing claims and how to get them paid quickly.
"In today's economy of lower insurance reimbursements and higher deductibles it is important for insurance claims to get paid quickly and for patients to be billed correctly, which is why I designed the Medical Revenue Cycle Management class", says Oliverez.
Manny Oliverez is a Certified Professional Coder (CPC) as well as the co-founder of his own medical billing company. Oliverez has been in the healthcare industry for over 17 years and has noticed a demand for helping medical practices collect their revenue in a more efficient manner. "My class is made up of healthcare professionals such as physicians, practice managers, and medical billers wanting to learn how to run their medical practices better," says Oliverez. "And in recent years I have gotten more and more students that want to enter the medical billing services field. They take my class to get the skills they need to find a job."
A few of the topics the course will examine are best practices for over-the-counter collections, electronic insurance claim submissions, claim appeals, patient billing, and the use of reports designed for benchmarking and setting goals to keep bringing in revenue.
ABOUT CAPTURE BILLING
Capture Billing and Consulting, Inc., a leader in the outsourced medical billing service industry, offers one of the most cost-effective outsourcing solutions to healthcare professionals available. By eliminating the need for in-house medical billing staff, Capture Billing's staff of expert medical billers and certified professional coders help to increase physician reimbursement by improving collection rates and ensuring proper ICD-9 and CPT coding and soon will offer ICD-10 training. Practicing physician and CEO, Dr. John D. Farrell, Jr., formed Capture Billing in 2004 as the answer to one of the largest concerns physicians face today, how to receive proper insurance reimbursement for services they provide.