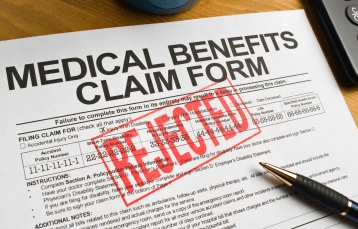 Claims are followed up systematically and quickly. We diligently pursue your claims for maximum insurance reimbursement and appeal your denials.
Our expert medical billing follow up team aggressively pursues all unpaid insurance claims. EOBs and claims are assessed, prioritized and handled on a claim by claim basis.
Claim denials are always handled by an appeal. Once the denial is evaluated, we utilize our appeal process to handle incorrect claim denials. Claims are never written off without being appealed first.
Follow up is handled utilizing our electronic clearinghouse, insurance websites and direct contact via telephone. We are experts at getting through to the insurance companies to dispute improper denials and slow payments.
_____________________________________________
See what a difference Capture Billing can make for You.


For a Free consultation by a Medical Billing Professional call
(703) 327-1800


or fill out the contact form.
Charge Entry

Simplify your charge entry. We provide accurate entry of office and hospital visits, surgical and diagnostic procedures, plus labs.

Claim Submission

Claims are filed, scrubbed, and checked for accuracy via our clearinghouse, with timely payment/EOB posting.

1 Pont of Contact

We're the primary point of contact for patients during the billing cycle — statements, payment plans, and collections.

Accounts Receivable

Cash flow worries will be long forgotten, thanks to our timely and systematic claims follow-up procedures.

Denial Management

When claims are denied, our certified billers and coders find the missing puzzle pieces fast, and refile or appeal the denial.

Customized Reports

Our reporting package contains monthly customized reports, offering a detailed picture of your practice's financial health.
PLUS:
*ICD-10 transition * Mini Chart Audits * Chart Accuracy Review
* Fee Schedule Evaluation * Document Scanning and Archiving
Revenue can be lost nearly anywhere in the billing cycle. So, our list of services covers the entire spectrum – from patient registration to collections. Below is just a short listing of our comprehensive services.
Only need to outsource certain tasks? We'll work with you to determine the best plan for your practice's bottom line.
Capture Billing and Consulting, Inc. relieves the burden of insurance and patient billing once and for all. You and your staff will have more time to do what you love and do best – provide the quality care your patients deserve.
Our comprehensive services are designed to maximize your profit while minimizing your costs. Let us take the stress out of your billing cycle.
Request a free customized quote below or call our billing specialists now at 703-327-1800.