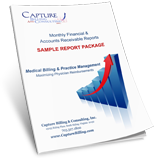 Every month Capture Billing provides you with a customized financial reports package which allows you to closely track your practice's financial health. It also shows you how effective we are at capturing your money!
We meet with you and your selected staff monthly to personally review each report and answer your questions. Our informative medical billing reports are clear, concise and easy to read and can be customized to meet your specific needs for financial analysis, including comparison to national averages.
Download the Full Sample Monthly Medical Billing Accounts Receivable Report Package:  CLICK HERE
Below are a few sample reports that we have available but we suggest you download the full package for review.
CPT Code Analysis Report

The Utilization Report shows a Bell Curve with Distribution of problem oriented visits that allows you to see how your coding compares to the national averages within your specialty. This report can be used as a very useful tool to flag inappropriate coding practices. It can be run for each individual practioner to identify coding patterns. Call us and we can explain how you can use it properly.
show report

Charges & Visits by Physician Report

This report lists all charges and visits by provider and as with all our reports, it can be customized to include additional information such as revenue and adjustments.
show report

Accounts Receivable Aging Report

One of the most important reports you can get. This tells you if you are getting your money and how long it takes to get it.
show report

Insurance Payer Mix Report

This report tells you how you got paid and analyzes payment by insurance company.
show report

Variance Report

This report measures productivity amongst the providers based upon national averages for productivity from the Medical Group Management Association (MGMA).
show report
_____________________________________________
See what a difference Capture Billing can make for You.


For a Free consultation by a Medical Billing Professional call
(703) 327-1800


or fill out the contact form.
Charge Entry

Simplify your charge entry. We provide accurate entry of office and hospital visits, surgical and diagnostic procedures, plus labs.

Claim Submission

Claims are filed, scrubbed, and checked for accuracy via our clearinghouse, with timely payment/EOB posting.

1 Pont of Contact

We're the primary point of contact for patients during the billing cycle — statements, payment plans, and collections.

Accounts Receivable

Cash flow worries will be long forgotten, thanks to our timely and systematic claims follow-up procedures.

Denial Management

When claims are denied, our certified billers and coders find the missing puzzle pieces fast, and refile or appeal the denial.

Customized Reports

Our reporting package contains monthly customized reports, offering a detailed picture of your practice's financial health.
PLUS:
*ICD-10 transition * Mini Chart Audits * Chart Accuracy Review
* Fee Schedule Evaluation * Document Scanning and Archiving
Revenue can be lost nearly anywhere in the billing cycle. So, our list of services covers the entire spectrum – from patient registration to collections. Below is just a short listing of our comprehensive services.
Only need to outsource certain tasks? We'll work with you to determine the best plan for your practice's bottom line.
Capture Billing and Consulting, Inc. relieves the burden of insurance and patient billing once and for all. You and your staff will have more time to do what you love and do best – provide the quality care your patients deserve.
Our comprehensive services are designed to maximize your profit while minimizing your costs. Let us take the stress out of your billing cycle.
Request a free customized quote below or call our billing specialists now at 703-327-1800.