Scanning medical records make retrieval fast and easy for medical staff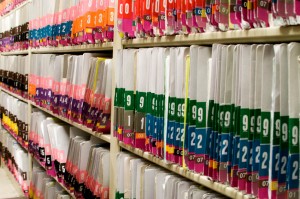 WASHINGTON, DC – A major problem in the physicians' office is the storage of medical records. These medical records run the gambit from medical billing records such as EOBs, encounter forms, patient registration forms, and insurance cards to full thick medical charts.
Boxes and piles of these old documents usually fill closets, are under or next to desks, or stacked high in the hall just getting in the way. They can't be discarded because your staff needs to access them for insurance follow-up or when patients request copies of old medical records. Storage units along with physician basements or garages (which are not HIPAA compliant) may be storage options but are not quickly or easily accessible.
On top of that, those records are legal documents that have to be retained for up to 10 years. This archiving of records can result in what could become hundreds of boxes of documents that will accumulate over the years and take up more and more space. One solution that has become practical and cost-effective is to digitize or scan documents, into electronic storage. Now you can store all those boxes of important documents from the last 5, 10, or 30 years, and the years to come, in one location that does not take up any space, the internet.
The preferred way to store your records is digital. And the best way to do that is by outsourcing your scanning. With a phone call, an electronic document storage company will come out and pick up all your boxes of documents. They will scan them into their secure servers and index them for easy retrieval. Documents can be indexed by a variety of criteria; patient name, date of birth, or account number. Once all the records are scanned the original paper records can then be shredded.
The scanned records are immediately available for viewing at your location usually through a secure web portal that you can access with a standard web browser such as Microsoft's Internet Explorer. You are not only able to view the records but you can also print the entire record or just one page. Each of your locations can have access to the records through the encrypted, password-protected, web portal. The cost of such a service is typical, a fee per page or chart, and then a monthly access and storage fee.
Can you scan documents in your own office? Sure, but let's look at the cost. Even a small practice will need a high-speed scanner. A scanner from the local office supply store may be good for scanning insurance cards but it cannot handle the volume of medical records that will need to be digitized even in a small office. Good scanners that can handle 90 pagers per minute, front and back, start at about $6,000. Add to that the cost of a file server with lots of storage. That sever should be equipped with multiple hard drives (RAID) in case one hard drive fails.
A tape drive for daily backups is a must. Expect to pay between $3,000 to $5,000 for a decent server. You still have to purchase a software database in which to store your files on the computer. At one end of the scale, a simple database from a small company such as E-Drawer can be had for about $2,000. On the other end, Captaris offers an outstanding product but will set you back about $25,000.
Hold on, you are not finished yet. Don't forget you still have to have a technician install and add your system to your computer network. Then you will have to maintain the system and pay a person to scan. For a larger practice, you may have to purchase two scanners and pay for more staff. The originals will have to be shredded. This may or may not be cost-effective.
Scanning is an excellent solution to getting rid of all those boxes full of charts, EOBs, fee tickets, and other documents that are stored around the office or off-site that must be retained for years. Many electronic data storage companies make it not only simple but cost-effective for small, medium, and even large medical practices to outsource their scanning. The archived documents can then be easily accessed by the medical staff via the internet.
About Manny Oliverez
Manny Oliverez is a Certified Professional Coder (CPC) and the Director of  Operations for Capture Billing & Consulting, Inc., in Leesburg,  VA and provides outsourced medical billing services for physician offices. If you would like more information about improving your accounts receivable or other practice management and billing issues, contact him at  (703)327-1800.