Medical Billing Company creates short animated video to help medical offices understand the HITECH Act, certified EHRs and the financial incentives associated with Meaningful Use.
South Riding, Virginia (Vocus) November 11, 2010 – Capture Billing and Consulting, Inc., a medical billing company and practice management consulting firm, has just announced the release of its educational video outlining the basics of Electronic Health Records (EHR) and Meaningful Use. In this easy to understand and short animated video, Capture Billing simplifies the confusion associated with the Health Information Technology for Economic and Clinical Health (HITECH) Act of 2009 and sheds light on the basic requirements set forth by the EHR incentive program.
The video provides a simple explanation and background of the HITECH Act, the financial incentives for adopting EHRs, and demonstrates how requirements of the core and menu set objectives must be met to qualify for the incentive money from the government. The financial benefits offered by the Medicare and Medicaid EHR incentive programs include up to $44,000 per eligible Medicare provider and up to $63,750 per eligible Medicaid provider. The government is offering this incentive program to providers to transition to EHRs in order to meet the five healthcare goals set forth by the HITECH Act. These five goals are to improve the quality of care, engage patients and families in their care, promote public and population health, improve care coordination, and promote the privacy and security of EHRs.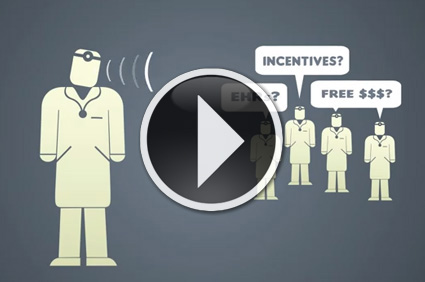 "The purpose of our educational video is to help physicians, practice administrators and medical office managers understand that the transition to EHRs, although challenging, is not insurmountable. We created this video to let providers know that Capture Billing is ready to begin preparing and transitioning offices to an EHR system to meet the requirements for the Meaningful Use criteria", explains Manny Oliverez, Director of Operations.
As practices become overwhelmed by the implementation of an EHR system, reimbursement incentives, and meaningful use requirements, Capture Billing now provides the perfect solution. Capture Billing will not only provide its elite medical billing services, but it will also provide an EHR system and will take on the technical burden of hosting it.
In this perfect relationship between Capture Billing and healthcare providers, Capture will also continuously monitor practice requirements for meeting meaningful use in all three stages of implementation and relieve this administrative burden from already busy medical practices.
"Capture Billing's ultimate goal is to offer a top-quality EHR for its medical billing clients. Long after the EHR vendor is gone, as a medical billing company, we will still be providing medical billing services and helping practices continue to achieve meaningful use. We are already there each month providing our medical billing services to our clients so it makes sense to help them achieve the meaningful use criteria and provide them with an EHR" indicates Oliverez. "We will also be ready to help train and transition all offices with the release of the heavily anticipated and confusing ICD-10 diagnosis changes." Capture Billing is poised to meet the future of healthcare reform head on and really provide medical practices with a one of a kind specialized service.
As the requirements of Meaningful Use will be released in three stages, Capture Billing will continue to provide educational videos for each and every stage to help providers understand the EHR transitional process better, and is a great addition to Capture Billing's informational Medical Billing Minute Videos.
The video "The HITECH Act: Electronic Health Records and Meaningful Use" is available for viewing at YouTube.
About Capture Billing
Capture Billing and Consulting, Inc., a leader in the outsourced medical billing services industry, offers one of the most cost effective outsourcing solutions to healthcare professionals available. By eliminating the need of an in-house medical billing staff, Capture Billing's staff of expert medical billers and certified professional coders help to increase physician reimbursement by improving collection rates and ensuring proper ICD-9 and CPT coding. Practicing physician and CEO, Dr. John D. Farrell, Jr., formed Capture Billing in 2004 as the answer to one of the largest concerns physicians face today, how to receive proper insurance reimbursement for services they provided.