Converting to the Paperless Office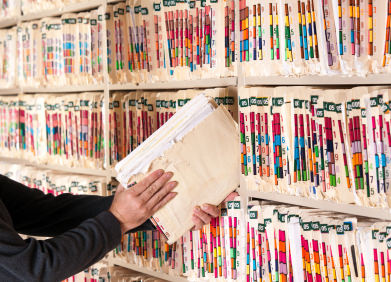 Since the advent of computers into healthcare, the goal has been to establish a paperless office. While computers have enhanced many medical practices, the idea of being entirely paperless has never been fully embraced. In all actuality, most healthcare professions will never be completely paper-free because there will always be legal or financial records maintained. Also, without any industry-wide standards regarding paper versus digital records, other medical offices who have yet to convert will still be maintaining and issuing hard copies.
Making the Commitment
Medical practices are in a unique position regarding this dilemma. Bringing offices into HIPAA compliance is a regulatory requirement, and digital storage of patient charts provides more security than traditional practices of off-site storage, which — let's be honest — sometimes winds up being the doctor's basement or storage shed.
To implement this change, everyone in the office must be on board. Even one dinosaur stand-out who grumbles and grouses about the pending change is enough to derail the project. Personally speak to other physicians and key staff members to ensure their cooperation. A mandatory meeting where the pending change is announced is a good idea. You can inform staff that training in the new system will be provided at their current rate of pay, and that the system will be implemented gradually, but all must begin to comply with the process immediately.
Once the change has been made, anyone who is not on board should be weeded out and replaced with capable candidates who embrace the change.
Advantages of Electronic Health Records
Have you ever had your appointment schedule delayed by a misplaced chart for a patient who was cooling her heels in a paper gown in your exam room? If so, you know a major reason for replacing your current archaic system. With a digital system in place, the information you seek is just a few mouse-clicks away.
Front office staff taking messages from patients will no longer have to rely on paper-clipped or sticky notes on the front of charts; all information is keyed into the system. Additionally, there is now a record of each employee's digital "fingerprint" on all patient charts, making tracking employee productivity and HIPAA confidentiality compliance much easier.
Once the implementation is complete, the practice begins to save money on printing and supply costs and storage fees. Areas previously dedicated to records maintenance can now be utilized for other revenue-generating purposes.
Mitigating the Disadvantages
Make no mistake — there is a steep learning curve. People are naturally resistant to change. There are considerable immediate expenses, such as the purchase and maintenance of an online electronic health system like eClinical or Greenway, upgrading the practice's computer network, purchasing servers and upgrading all computer equipment. There will be labor costs associated with the worker-hours necessary to scan each page of every chart into the system. For the system to work, this task must be done meticulously, with no omissions or illegible entries.
All key players must recognize the importance of immaculate records preservation and seamless data transfer. A position of Digital Office Supervisor should be created. This individual will ideally oversee the process from its inception to the day-to-day operations. Qualifications should include the ability to oversee employees doing the data entry and scanning to the advanced computer skills necessary to maintain the integrity of the system.
Survival of the Fittest
Expect to lose some key players. Established, set-in-their-ways staff members may elect to retire early or even seek other employment rather than learn the new system. A certain percentage of attrition is expected. New hires who can easily adapt and those eager to take on a new challenge will fill these positions.
Day-forward versus Back File Conversion
You need to decide which meets the practice's needs best. Day-forward conversion digitizes all active documents from the inception of the conversion while still maintaining previous hard copies. Back file conversion digitizes and indexes all documents in a patient's chart unless they are determined to be extraneous. A consultation with your electronic health records vendor a reputable records management company can provide you with the information you need to decide on which system is a better fit.
It's your turn.
So has your practice gone "Paperless"? Tell me about your experiences in converting your office. Did it go well? Did it go bad? Leave your comments below.