The Crucial Lesson Physicians can Learn from Their Peers
Is your medical practice guilty of the most common billing error, upcoding patient visits? That is, are you coding – and thereby billing – at a higher level of service than your documentation supports? While it's a simple question on the surface, it certainly requires a complex mix of research, comparisons, and data analysis to truly answer. But there's an easy way to evaluate how widespread this common practice is in your own medical billing office.
Accurate Coding…All the Time?
In a perfect world, you'd code your patients' accounts accurately 100% of the time. And by accurately, that means you'd always assign: Appropriate E/M service levels for office visits of both new and established patients. Highest procedure codes possible as long as the chart documentation backed it up. Modifiers as needed. And you would never, ever, ever bill for services that were either:
Not performed
OR
Weren't sufficiently documented in the patient's chart
That all seems obvious when put in black and white though, doesn't it? But it's a whole other ballgame when you're in the trenches, coding dozens – if not hundreds – of charts per day. So if 100% accuracy is unobtainable, what should you realistically aim for?
Don't Always Aim High
Well, for starters, you shouldn't aim – or bill – high all of the time. Upcoding has been an issue for years, but it's become more openly discussed recently given the rise in billing scrutiny. Previously, many medical billing offices didn't take such a thorough, methodical approach to their coding and billing – their procedures for assigning codes were much less formal and consistent. In 2010, the Office of Inspector General (OIG) found the following as it relates to improper coding of E/M claims received by Medicare that year:
More than 50% of office visits weren't coded correctly and/or were missing supporting documentation.
1 in 4 claims were upcoded.
More than 1 in 10 claims had insufficient documentation.
And the most devastating statistic:
Essentially 1 in every 2 claims had some sort of billing error.
It seems that even a few years down the road, in 2012, upcoding was still a major occurrence. ProPublica, a non-profit corporation that focuses on investigative journalism, published an article recently about this trend. They analyzed data from 329,500 practitioners who billed at least 100 established patient E/M visits to Medicare in 2012. And their findings were astounding:
1,800 providers billed at the top level of service at least 90% of the time.
A Florida-based urgent care physician billed a Level 5 E/M service for all of his established patients' visits in 2012 – to the tune of 2,376 visits.
A Michigan-based OBGYN charged the highest level of care for nearly all of his Medicare patients, at an astounding rate of 8 visits per patient that year.
And this is arguably the most important takeaway from ProPublica's article:
…while most providers had a tiny percentage of level 5 cases, more than 1,200 billed exclusively at the highest level. Another 600 did it more than 90 percent of the time. About 20,000 health professionals billed only at levels 4 or 5.
Claims have been made that these 1,800 top-billing physicians simply took on more complex patient loads because others practitioners turned them away. Thus, they needed to bill at a higher level more often than not. In reality though, what is the likelihood that virtually ALL of a physician's patients would require billing at the highest-priced, most complex office visit?
Even CMS weighed in by saying, "it would be highly unusual for a provider to knowingly use the highest E/M billing code for all or nearly all of his or her outpatient visits." And if you've learned anything in the face of increasing Medicare audits and payment recoupments, you definitely don't want to be the bright spot on CMS' radar. In 2012 alone, a record-breaking $4.2 billion in healthcare fraud recoveries were logged.
So is My Practice Upcoding or Not?
To evaluate if your practice is guilty of upcoding, you'll need to rely heavily on data comparisons. By running a CPT Utilization Report, you can see how your E/M billing is ranked compared to that of your peers. Below are several samples of the report that we provide to our current clients in their monthly financial report package. You can see it's easy to interpret and – at a glance – you can see exactly where your practice stands. So for this physician, we wanted to evaluate the following E/M codes:
| | | | | |
| --- | --- | --- | --- | --- |
| 99201 | New Patient – Focused Visit | | 99211 | Est Patient – Minimal Visit |
| 99202 | New Patient – Expanded Visit | | 99212 | Est Patient – Focused Visit |
| 99203 | New Patient – Detailed Visit | | 99213 | Est Patient – Expanded Visit |
| 99204 | New Patient – Comprehensive | | 99214 | Est Patient – Detailed Visit |
| 99205 | New Patient – Complex Visit | | 99215 | Est Patient – Comprehensive |
And then based on the national provider data accessed via CMS, we calculated the variances for new and established patients for each of those E/M services above. A positive percentage indicates the possibility of upcoding, while a negative percentage could mean undercoding – a whole other issue we'll discuss in the future.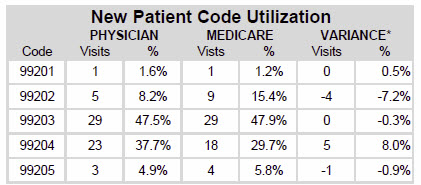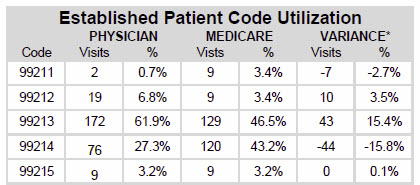 For a better visual, these graphs pit each physician's coding against the national averages.

Report Wrap-up
Remember to run this report each month, for every provider in your office. The greatest strength and benefit of long-term data collection is being able to review trends over time. And the whole point of analyzing trends is to find ways to maximize your reimbursement and avoid as many of those audit-inducing errors as possible.
If you're stumped on how to adapt this report to your practice, feel free to reach out to us here at Capture Billing for help. You can fill out our simple contact form or call us direct at 703-327-1800 and we'll get you back on track with your monthly reporting goals in no time.
How does your practice's coding compare to the national averages? Please comment below and let me know!