Patient wait time is a huge problem in medical offices today. Does this sound familiar? It's time for your annual physical and you've scheduled it around your work day or other obligations only to sit in a waiting room for an hour (or more), then wait another lengthy amount of time once you're back in a room. By the time you're finished you don't even have time to stop at the desk to schedule your next visit, and you leave frustrated about the fact that your day has been thrown completely off course.
We've all been there. 
Recent research shows that nearly 2 out of 5 patients are already frustrated with their doctor before their check-up even begins, all because of wait time. The average patient wait time is 20 minutes, which is way too long according to a large portion of patients Software Advice surveyed.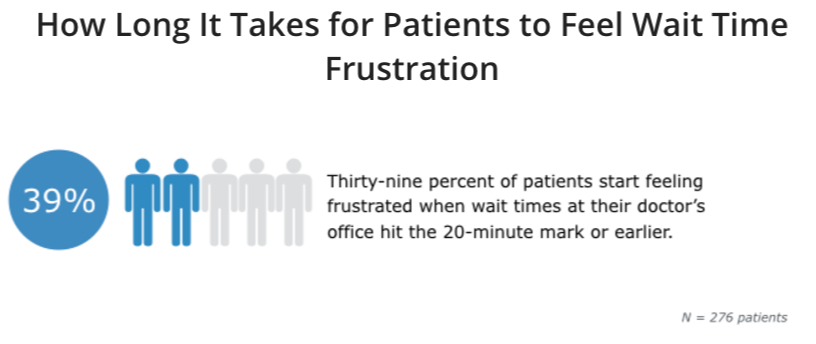 If the frustration your patients are expressing over their wait times go unresolved it's unlikely that you'll be able to retain them.  These two studies were ran to get to the heart of the issue:

Findings:
A combined 53 percent of physicians say patients at their practice routinely wait more than 20 minutes. Twenty-five percent say "daily" and 28 percent say "at least once a week.
A combined 63 percent of physicians believe wait times have "no impact" or "minimal impact" on their ability to retain patients.
The top three consequences patients cite for long wait times are: leaving the practice without seeing the doctor (23 percent), advising friends/family not to become a patient at that practice (22 percent) and switching to a new doctor (19 percent).
Sixty-four percent of physicians say patient arrival times (e.g., patients arriving later than their scheduled appointment time) are usually the biggest reason they run behind schedule.
Eighty-six percent of patients say being told in advance what the wait time will be could help reduce frustration.
It's a Balancing Act
Physicians are often put in between a rock and a hard place when trying to find the magical number of patient visits per day that prevents them from losing tons of money from the possibility of no shows while providing them with a schedule that isn't so packed their patients are waiting for 30 minutes.
Author Clint Hughes explains that a practice with just four missed appointments per day loses an estimated $144,000 per year. And according to the Medical Group Management Association, no-show rates can range anywhere from 3 to 80 percent of a practice's total patient interactions.
As you can see, it's crucial to the financial health of a medical practice to make sure they're prepared for these last-minute cancellations, but it's also important not to keep their patients waiting too long because that will cause their patient satisfaction rates to plummet.
In this physician survey, Software Advice asked respondents how often a patient at their practice encounters a wait time that is longer than 20 minutes for a scheduled appointment. Twenty-five percent say "daily" and 28 percent say "at least once a week".

Why Wait Times Are Still a Problem
So, with so many patients complaining, why are wait times still such a big problem? Because a lot of physicians don't think it's a problem at all. When asked how big of an impact they think patient wait times have on their practice's ability to retain patients, 12 percent of physicians claimed "no impact at all" and 51 percent predicted a "minimal impact."

But they're wrong. This perception is contradicted by the results of the following patient survey, which indicates that wait times do have an influence on whether people are loyal to a practice.
Here's what Software Advice found when they asked patients how they've behaved after experiencing long wait times at a doctor's office:

Twenty-three percent of patients say they've literally walked out of a waiting room, choosing to reschedule or even cancel rather than wait any longer.
How about that: Practices overbook patients to mitigate the effects of missed appointments, but the resulting long wait times can actually cause missed appointments.
Moreover, a patient's negative experience with practice wait times has a ripple effect that extends from close friends and family to strangers on the Internet. Twenty-two percent of patients have discouraged loved ones from seeing a certain doctor and seven percent have left critical comments on online reviews sites specifically because of wait times.
The Root of the Problem
Here's what physicians had to say when asked what factors contribute to longer-than-average wait times at their practice:

Reducing Patient-Related Delays
It turns out patients themselves are behind the top two causes: Sixty-four percent of doctors cited patient arrival times (e.g., patients arriving later than their scheduled appointment time) and 61 percent cited unexpected patient issues (e.g., encounters requiring unique or additional documentation/treatment). Here are a few ways to help prevent patient-related delays:
Leverage software to send multiple appointment reminders. You can automate these reminders to be sent via text message, email and/or phone call leading up to the appointment time. (Compare hundreds of systems within your budget here.)
Create, communicate and enforce a late arrivals policy. In one Massachusetts-based practice, patients receive warning letters the first three times they're more than 5 minutes late. By the fourth offense, they're asked to find another provider.
Try to anticipate whether you'll need to spend more time than usual on a particular visit. Ask patients to pre-fill paperwork ahead of their visit to determine whether their symptoms appear to require additional attention. (The American Medical Association has a great guide on implementing patient pre-registration processes here.)
Reducing Software Related Delays
Since 25 percent of physicians said technical difficulties were to blame for patient wait time, it obviously needs to be addressed. In fact,
EMR usability is a common complaint among doctors, including one of our survey respondents, who writes:
"I was pretty much on time for 38 out of 40 years of my career. When my multispecialty group went to EMR, that all changed for the worse. EMR slowed me down horribly and patients had to wait while I filled in all the useless checkmarks." – Survey respondent in Pediatrics
So, what can you do about it?
Identify and troubleshoot bottlenecks in your software usage. Your tech should be making your practice more efficient, not less efficient. Replace time-consuming applications with new, time-saving ones. We have a full guide to help you overcome common EMR challenges here.
Reducing Staff Related Delays
Two out of ten doctors said patient delays were caused by their staff underperforming in some way or that their practice was simply understaffed. Here are a couple of strategies you can use to help reduce staff-related delays:
Hire staff to improve wait times—even if it's just part-time—because it could actually save you money in the long run. Long wait times are costing you, patients, in the form of canceled appointments and negative word-of-mouth.
Improve employee motivation and efficiency with some popular strategies. These include team-building exercises/events, regularly holding performance reviews, and rewarding high-achievers with bonuses or gift cards.
Monitor
As you can see in the graph below, a good portion of physicians is already monitoring their patients' wait times.

If you're among the doctors who aren't monitoring wait times, we recommend taking these steps to gather information:
Invest in dedicated tracking technology. Vendors such as PatientTrack and PatientWorks can automate timers and generate reports for you.
Run a patient survey. You can ask about wait times and collect other kinds of helpful practice management feedback. Here are additional survey question ideas and implementation advice.
Assign a staff member to track the times manually. They could compare patient sign-in times versus treatment start times over a predetermined period (e.g., a week or a few days a month), then report back with the findings.
Recruit volunteers or hire patient flow consultants. These people would take detailed notes about the average visit length at your practice to identify bottlenecks without straining your staff's bandwidth.
Minimizing Frustration
Even if you employ all of these suggestions, your practice is bound to run late from time to time because businesses that revolve around people will always be vulnerable to time delays. So, how can you help offset some of the patient's frustration that comes along with said delays? For one, you can let them know of their wait time in advance when possible. When surveyed, a whopping 86 percent of patients said that alone would minimize their frustration. Check out the chart below for other ways to minimize frustration.

Something else to consider if you have a group practice is giving your patients the option to see another doctor. hen asked if they would be open to seeing another doctor in the practice if it meant a shorter wait, 69 percent of patients said yes.

With everything that's on the line, it's clear that patient wait times should be at the top of your priority list when managing your practice. Here are the three main steps you can work on right now, which are prioritized based on the results of the survey data:
Monitor wait times to identify and address specific bottlenecks causing delays (e.g., patient arrival times, staffing challenges).
Be upfront with patients about delays when they arrive and offer a personal apology once treatment begins.
Do you agree with the patient and physicians that were surveyed? I want to hear what you think!