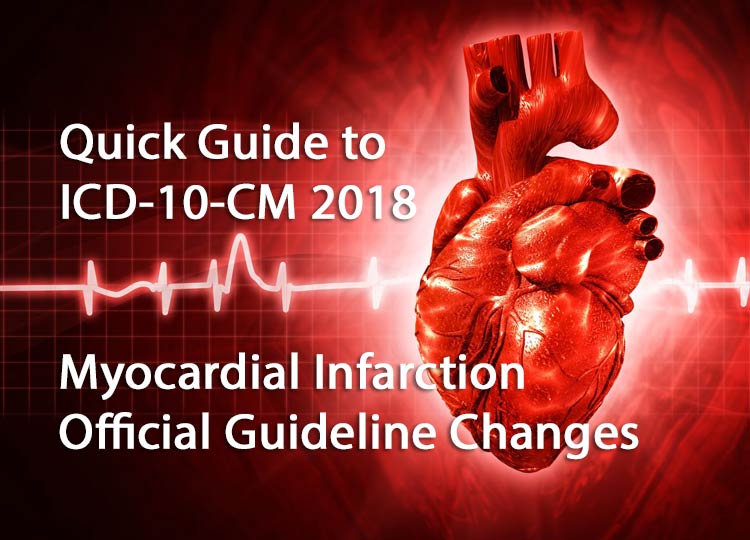 Guest Post by Deborah Marsh, JD, MA, CPC, CHONC from TCI SuperCoder
If you submit claims for myocardial infarction (MI), then get ready for ICD-10-CM to shake things up. Not only do you have to prepare for a coding update based on MI type, but you also must learn how to apply the new codes using the 2018 ICD-10-CM Official Guidelines (OGs) for Coding and Reporting. All these changes are effective Oct. 1, 2017, so there's no time to delay.
Start With MI Code Updates
To understand the changes to the OGs, you first have to learn the new references to MI types 1 to 5 in the diagnosis codes. Provider documentation will need to specify MI type to assist with choosing the most accurate code.
The changes start with ICD-10-CM 2018 adding notes under the following subcategories and codes to clarify that they apply to type 1 MIs, which are spontaneous MIs:
STEMI subcategories I21.0-, I21.1-, and I21.2-
STEMI code I21.3
NSTEMI code I21.4.
The new code set also will add I21.A1 (Myocardial infarction type 2), which includes MIs due to demand ischemia or ischemic imbalance. For MI types 3, 4a, 4b, 4c, and 5, you'll use I21.A9 (Other myocardial infarction type). Type 3 involves sudden cardiac death, type 4 is PCI-related, and type 5 is CABG-related. Finally, you'll have new code I21.9 (Acute myocardial infarction, unspecified) to use when documentation doesn't support using a more specific code.
Match New OGs to MI Code Changes
The 2018 OGs include revisions and all new text to help you understand how to apply the code changes. If you haven't spent a lot of time reviewing OGs in the past, now's a good time to start. They provide authoritative guidance that may not be available in the official code set. The American Hospital Association (AHA), American Health Information Management Association (AHIMA), Centers for Medicare and Medicaid Services (CMS), and National Center for Health Statistics (NCHS) all approve these guidelines, and HIPAA requires adherence to the OGs when assigning ICD-10-CM diagnosis codes. And if all that isn't enough to convince you to read the OGs, it may help to know there are some real gems in there to clean up your claims.
The OGs for AMI are found in Section I.C.9.e. Here's how the guidelines change for 2018.
I.C.9.e.1: This text about STEMI and NSTEMI alerts you that I21.0- to I21.4 apply to type 1 MIs in 2018, as explained above. You'll also find the helpful OG here that you should report a STEMI code both when STEMI converts to NSTEMI and when NSTEMI converts to STEMI. The 2018 version specifies that this rule applies to type 1 MIs.
I.C.9.e.2: The 2017 OGs pointed you to I21.3 (STEMI of unspecified site) as the default code for unspecified AMI. The 2018 OGs will get an update to acknowledge the addition of new unspecified AMI code I21.9. Be sure to update your job aids!
I.C.9.e.3: There's no change to this text, which tells you that if documentation states the site of a subendocardial MI (NSTEMI), you should report the subendocardial code even though it doesn't specify site. In other words, don't be tempted to use a site-specific STEMI code for NSTEMI just because you know the site.
I.C.9.e.4: Subsequent AMI OGs have some noteworthy changes in 2018. The existing rule about using a code from I22.- (Subsequent STEMI and NSTEMI) for AMI within four weeks of another AMI still stands, but now applies specifically to type 1 and unspecified AMI. You will continue to use the I22.- code in conjunction with the I21.- code, sequencing them based on the circumstances of the encounter.
You should not assign I22.- for other types of subsequent AMIs. Use I21.A1 for subsequent type 2 AMI, and use I21.A9 for subsequent type 4 and 5 AMI. (Remember, type 3 AMI involves sudden cardiac death.)
 I.C.9.e.5: This text is brand new for 2018 and basically tells you to follow the sequencing guidelines in the official code set when reporting AMI types 2 to 5.
For type 2 (I21.A1), you should "code also" the underlying cause of the demand ischemia or ischemic imbalance, assuming you know the cause and reporting it is applicable. The sequencing will depend upon the circumstances. The OGs add that you should not assign I24.8 (Other forms of acute ischemic heart disease) for the demand ischemia. This rule lines up with a new Excludes1 note under I24.8 that lists I21.A1.
Another helpful lesson you'll learn from the new OGs is that if documentation specifies STEMI or NSTEMI for type 2 AMI, you still should report type 2 code I21.A1. Leave I21.0- to I21.4 for type 1 AMIs.
For types 3 to 5 (I21.A9), the OGs instruct you to follow the ICD-10 "code also" note for complications and "code first" notes when a postprocedural MI code applies.
 Bottom line: Everyone who submits MI claims needs to thoroughly review the 2018 OGs. It's the only way to be sure you're using the new codes correctly. Spending a little time on the OGs now will save your organization from costly denials and hours of rework in the future.