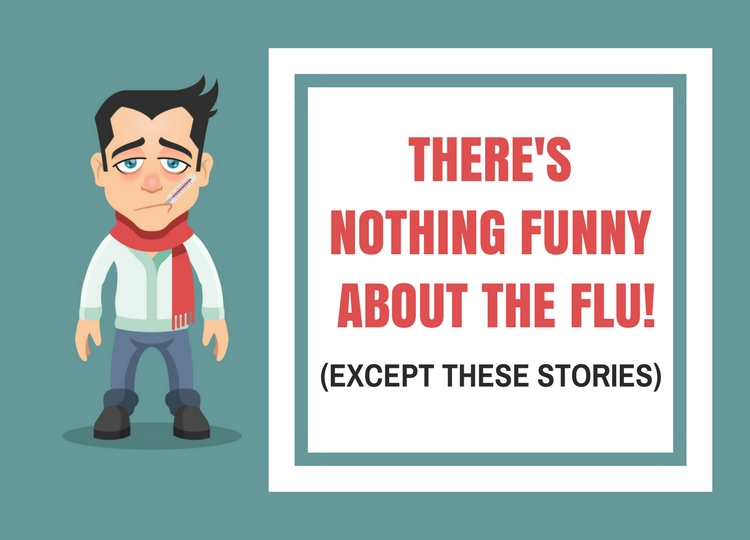 Guest Post by Katie at The Social Nurse and Healthcare Marketing Network
If you stood on the corner holding a sign that said "FLU! GET YOUR FLU HERE!" I think it's safe to say there wouldn't be a line around the block.
The flu is a nasty animal. It's not house-trained and it bites.
Feeling like you were hit by a truck, fever, sore throat, nausea, and a nose that runs like a river are only a few of the not-so-lovely symptoms that can come along with playing hostess to this nasty virus. In fact, the CDC reported 56,000 influenza-associated deaths in 2012-2013 alone. The flu should be taken very seriously and there's certainly nothing funny about it!
Well, except these stories…
Thanksgiving day is finally here! Bring on the turkey, naps, and football! Or puke. Lots of puke. After taking kiddos to the Macy's Thanksgiving Day Parade and having a slew of sixteen over for a friendly feast this family managed to get all of their guests, and probably a few other parade viewers, deathly ill. Note to self: If you think you have food poisoning, just assume it's the flu for three or four days to avoid passing it around like a toy at show and tell. …Continue Reading
The flu is a nasty animal. It's not house-trained and it bites.
What do you do when you're deathly ill and your professor requires a doctor's note? See the campus doctor of course. That's where the real problem started for this sickly student. Let's just say a long haul across campus when you haven't left your bathroom for hours probably isn't going to end well. …Continue Reading
Crying babies, a stomach flu, and bad decisions. Sounds like a great time doesn't it? Not so much. All this mom of four got from a family vacation that year was a whole lot of sickness and a timeshare she didn't want. Let this be a lesson to you folks; don't listen to a sales pitch when you have the flu! …Continue Reading
This poor guy not only got all the worst flu symptoms at once, but he did so after running a 10 miler in the nice and toasty Palau heat. He didn't know he was sick when he ran with his friends, of course, but needless to say it didn't end well. This story has it all guys; funny recalls of a not-so-funny situation, gruesome details to let you know it really happened, and a best friend Daniel shower diving to save his fainting friend. …Continue Reading
Dying at Disney
This story doesn't have a link because sadly, it's from the CEO of Capture Billing himself. Manny and his wife are big believers in the flu shot, but they always put them off until November, just so that it lasts a little bit longer into flu season. Anyway, this time they kept putting it off and putting it off, and ended up forgetting to get them this one particular year. What happens the ONE year you skip out on your flu shot? Pure unbridled misery replaces what's supposed to be a fun trip to Walt Disney World.
They had paid for ten whole days at the happiest place on earth, but there was nothing happy about it this time around. They were beyond sick and everything hurt but they still drug themselves all around the park to get their money's worth. He said he shudders to think about how many thousands of people were made ill by their poor choice to not get their flu shot that year.
Next Disney World slogan: Even the 'happiest place on earth' isn't fun with the flu!
Learn from these awful (but hilarious) mistakes and get your flu shot this year!