Use New Medicare Advance Beneficiary Notice ABN CMS-R-131 by January 1, 2012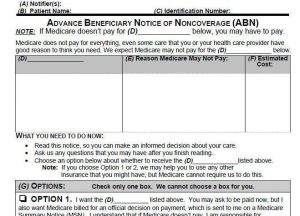 I received an email from the CMS LISTSERV today reminding me about the new Advance Beneficiary Notice ABN that we all have to start using by January 1, 2012. I wanted to share that information with you all, just in case you do not subscribe to the Medicare emails. Below is the info right from CMS.
2011 Version of Advance Beneficiary Notice of Noncoverage Must Be Used Beginning Sun Jan 1, 2012
In May 2011, CMS released an updated version of the Advance Beneficiary Notice of Noncoverage (ABN) (form CMS-R-131), which will replace the 2008 version of this form. The 2011 version contains no substantive changes from the 2008 version of the notice and was approved by the Office of Management and Budget. The 2008 and 2011 ABN notices are identical except that the release date of "3/11" is printed in the lower left hand corner of the new version. The ABN is used by all providers, practitioners, and suppliers paid under Medicare Part B, as well as hospice providers and religious non-medical healthcare institutions (RNHCIs) paid exclusively under Part A.
When the 2011 ABN was posted to the CMS website on Mon May 16, CMS announced a mandatory use date of Thu Sep 1 and permitted providers and suppliers to begin using the new form immediately. Subsequently, we received requests from the industry to extend this deadline in order to permit providers and suppliers with pre-printed stockpiles of ABNs time to exhaust their supplies.
Providers and suppliers are allowed to use either the 2008 or 2011 version of the ABN through the end of this year; beginning Sun Jan 1, 2012, they must begin using the 2011 version. ABNs issued after Sun Jan 1 that are prepared using the 2008 version of the notice will be considered invalid by Medicare contractors. 2008 versions of the ABN that were issued prior to Sun Jan 1 as long-term notification for repetitive services delivered for up to one year will remain effective for the length of time specified on the notice.
Information and a copy of the 2011 version of the ABN (form CMS-R-131) can be found online at http://www.CMS.gov/BNI , under the "FFS Revised ABN" link.
To DOWNLOAD the Revised ABN form CLICK HERE



____________________

It's Your Turn
What Do you think? Are you using then new ABN? Have you been successful getting Medicare patients to pay for services that were denied? Share your experience in the comments box below.